The show's curator D'Lan Davidson, an Australian Indigenous art specialist, said there was very strong interest in Aboriginal art from a number of art institutions in the US.
"They are and they will be playing catch up on what is clearly an important movement," he said.
The world is sitting up and taking notice of the extraordinary art produced by Australia's First Nations people, though sadly their own country was not, Davidson said.
"We have to take the art [to New York] before it is truly recognised here. What should really happen is all of our hierarchy here should be beating the drum but really there is a lack of confidence there."
The works he selected for the show, simply called Emily, illustrate the breadth of her style, he said.
An exhibition at New York's prestigious Gagosian Gallery last year, Desert Painters of Australia, which generated great interest, was tipped to be a game-changer for the sector. It featured nine works from actor Steve Martin's collection; he is a serious art collector and owns a number of Indigenous paintings, including one of Kngwarreye's, alongside pieces by Andy Warhol, Edward Hopper and David Hockney.
It was a signal that, internationally, Kngwarreye's work is considered significant contemporary, modern art in its own right.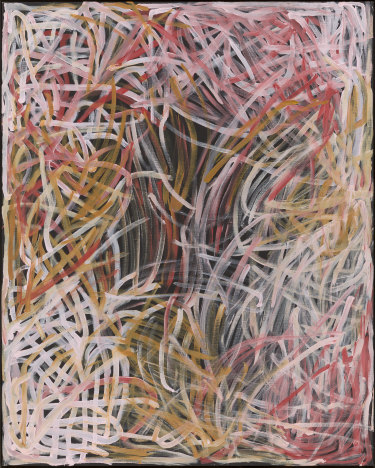 She is the artist who took contemporary Aboriginal art global, said Luke Scholes, curator of Aboriginal art at Museum and Art Gallery of the Northern Territory (MAGNT).
"The thing about Emily is that she just had an immediate impact – her talent and her genius was almost instantly recognisable. She painted a much more emotional response to country.
"Up until the late 1980s [Indigenous art] was about its Aboriginality, whereas people started to have conversations about Emily's work about whether it was modernism – whether it was or not was not the point. People appreciated her work as art. That's where we've got to now, people are recognising her as an internationally significant artist. She broke open those lines of connection."
A senior member of the Anmatyerre language group in Utopia, an isolated desert region in central Australia, Kngwarreye has long been celebrated for her contemporary art. Unlike many desert painters of her time, she didn't use stylised representations of animal tracks or concentric circles in her designs.
Inspired by her Dreaming, she favoured richly layered brushstrokes, brilliant colour, then a monochromatic pallette, twisted lines and stripes, and blocky abstracts at different times, creating a suite of very different approaches resulting in an extraordinary array of works.
Loading
Despite only taking up painting at age 78, Kngwarreye produced an extraordinary 3000 works over eight years. She produced art of many kinds, starting with batik fabric painting in 1977. For most of her life she had only sporadic contact with the outside world, given Utopia is about 230 kilometres north-east of Alice Springs, until she died in 1996.
A retrospective of Kngwarreye's work was developed by the National Museum of Australia in 2008 for shows in Japan, and she was represented posthumously in the 1997 Venice Biennale. Artsy named her one of the top 20 most influential artists of 2019.
Emily is at High Line Nine in New York from March 5–21, 2020.
Kerrie is a senior culture writer at The Age and The Sydney Morning Herald