"Stories we call the 'human experience' are so often male stories," said Adelaide director Sophie Hyde, whose film Animals was a festival hit last year.
"We name stories about female humans 'women's stories'. If we named our major stories 'male stories' the way we do with women, we might think differently about them."
The Academy's oversight seems particularly egregious coming on the heels of a record year for women filmmakers. A study from USC's Annenberg Inclusion Initiative released last week reported that women accounted for 10.6 per cent of directors of the top movies in 2019, more than double 2018 and the highest number yet.
The year had also teased awards contention for an unprecedented number of female filmmakers, with Greta Gerwig's Little Women, Lulu Wang's The Farewell, Marielle Heller's A Beautiful Day in the Neighborhood, Lorene Scafaria's Hustlers and Celine Sciamma's Portrait of a Lady on Fire among those achieving strong critical praise.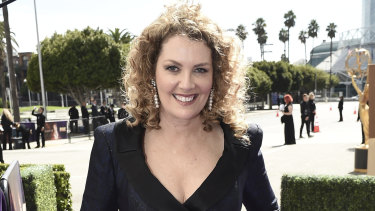 But despite the inroads female directors have made in the industry, traditional biases persist, Reid said.
"It's habit. And the film and television industries are built on a lot of money − when it gets down to that final decision of who gets to direct [a project], men are still seen somehow as less risk."
In Australia, the Oscars' shunning of female directors contrasts with December's AACTAs, in which half the directing nominees were women – Jennifer Kent for The Nightingale and Mirrah Foulkes for Judy and Punch – and where Kent walked away with the award.
"The fact it was equal and a woman won it proves we're already ahead of the game, and not even because of quotas," Reid said of local efforts to promote women filmmakers.
"When I got my break it was because producers were actively looking for female directors to capture the female audience − it wasn't like they were trying to be equal, they were just thinking about the audience and how much money they could make. When I did [miniseries] Howzat!, I was sitting at Channel Nine and they were so terrified that a show about cricket would not appeal to female viewers that I directed it to try to bring everybody in."
On Tuesday, frustrations with the Oscar nominations stretched beyond the best director category and threatened to reignite the #OscarsSoWhite controversy of five years ago that sparked an upheaval of the Academy's voting membership. Just one person of colour, Harriet actor Cynthia Erivo – who Reid recently directed in HBO's Stephen King-inspired miniseries The Outsider – was featured among the nominees.
"It's about our stories and it's about who's represented," Reid said of the justified criticism of the Oscars nominees. "Half the reason I'm doing this job is because I want to tell stories from my perspective, a female perspective, because it's so rare. So many female viewers have to shift their gaze to that of a man's just to be able to enjoy a film."
"I've been revitalised and excited by so many of the great films and voices of this past year," Hyde said, citing Little Women, Portrait of a Lady on Fire, Olivia Wilde's Booksmart and Alma Ha'rel's Honey Boy, "and mostly bored by the awards nominations. There are so many kinds of stories I want to hear more of and so many storytellers I want to hear from, but the Oscars are the old world and I hope a new world is coming."
Robert Moran is a culture reporter at The Sydney Morning Herald and The Age