The symbol of the emu footprints returning to the earth represents a different way of storytelling for Jones.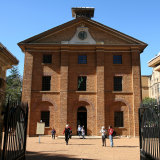 "There are other ways of remembering history… It's really people that activate memory; buildings don't have memories, objects don't have memories. It's about how we as people imprint ourselves within those sites and engage with them," he said.
"Physically destroying something means you'll physically remember it."
The artwork is in stark contrast to the monolithic structure of the barracks itself – a representation of colonialism and oppression. Yet within this structure all experiences are being shared. One of the many stories told in the exhibition is that of the Bathurst War in 1824, and the ensuing massacre and mistreatment of the Wiradjuri tribe in what has come to be known as the Potato Field Incident.
"That's why my elders are coming down and talking about that history because that's a history that is connected to this building," Jones said.
Loading
Aunty Sue Blacklock, Nucoorilma elder of the Gamilaraay nation helped collaborate on the exhibition.
"I think it is important that they tell these stories … to get the truth out there," she said.
The exhibition is one for all the senses, with a cast of voice actors bringing the old building to life through headsets as you make your way around. As you pass through the sleeping quarters you can hear the creak of the floorboards and the sound of rats.
Perhaps the oddest aspect of the exhibition are the preserved rats featured throughout. Executive Director of Sydney Living Museums, Adam Lindsay pays homage to the humble rat in the collection. 80,000 of the 120,000 items in the archaeology collection were found beneath the floorboards of the building with many taken by rats.
"You won't believe how many rats were preserved beneath the floor… the rats actually took material, buttons, studs, smoking implements and scurried them away… so really they were the first curators in the city," Lindsay said.
Hyde Park Barracks re-opens Friday 21 February. Tickets are available online now with a 20 per cent discount for all NSW residents.
Madeleine Bower is an intern at The Sydney Morning Herald