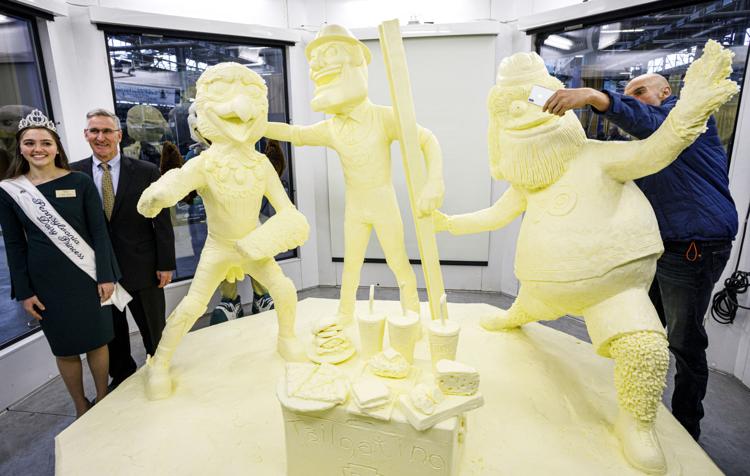 HARRISBURG – A sculpture crafted out of a half-ton of butter, and depicting the mascots of the Philadelphia Flyers, Philadelphia Eagles and the Pittsburgh Steelers, was unveiled Thursday ahead of the Saturday opening of the Pennsylvania Farm Show in Harrisburg.
Lt. Gov. John Fetterman said state officials hope the depiction of the Flyers' "Gritty," the Eagles' "Swoop" and the Steelers' "Steely McBeam" will encourage urban and suburban residents to the event and learn more about where their food originated.
"Every year, Farm Show brings crowds to Harrisburg to celebrate things they love," said Fetterman. "This year, we hope to connect even more Pennsylvanians to our state fair and to agriculture by representing the faces of those they already love, from the west and east of Pennsylvania."
The Farm Show is the nation's largest indoor agricultural exposition, with nearly 12,000 competitive exhibits, more than 5,200 of which are animal competitions, plus 300 commercial exhibits and hundreds of other events.
The 2020 show runs Saturday through Jan. 11 from 8 a.m. to 9 p.m. daily, except Sunday, Jan. 5, when it runs 8 a.m. to 8 p.m., and Saturday, Jan. 11, when it opens at 8 a.m. and closes at 5 p.m.
Admission is free. Parking is $15 in Farm Show lots.
"When we see this butter sculpture we will smile. I also want you to cheer for Pennsylvania dairy," Pennsylvania Agriculture Secretary Russell Redding said before the butter sculpture was unveiled. "We all win when dairy wins in Pennsylvania."
The state has the second largest number of dairy farms nationally, having more dairy farms than every other state except Wisconsin, according to the Pennsylvania Center for Dairy Excellence. There were more than 6,900 dairy farms in Pennsylvania in 2012, according to the U.S. Department of Agriculture. That number has dropped to about 6,200 according to the Center for Dairy Excellence.
To help respond to the pressures facing dairy farmers, the General Assembly last June passed legislation creating a dairy future commission. Gov. Tom Wolf signed the measure into law as Act 66 of 2019, and that commission held its first meeting in September.
Also last year, Wolf signed the Pennsylvania Farm Bill, which included a new round of $5 million in grant funding for Pennsylvania's Dairy Investment Program to further support the state's dairy industry. This grant program supports on-farm innovation through research and development, organic transition, and value-added processing of products like cheese, yogurt, and ice cream.
Those efforts will help all dairy farmers, whether they benefit directly or not, said Marie Canon, of Mercer County, who attended the butter sculpture unveiling as a board member of the Pennsylvania State Dairy Promotion Board.
"Anything that's going to make my neighbor's farm healthier is going to make my farm healthier too," she said.
The dairy industry has been reeling from three years of low prices, but prices have started to recover, Canon said. It's the faith that things will get better that motivates dairy farmers to remain in the business, she said.
"Dairy farmers are forever optimistic," Canon said.
Canon and her husband Mark operate a dairy farm with 120 milking cows near West Middlesex.