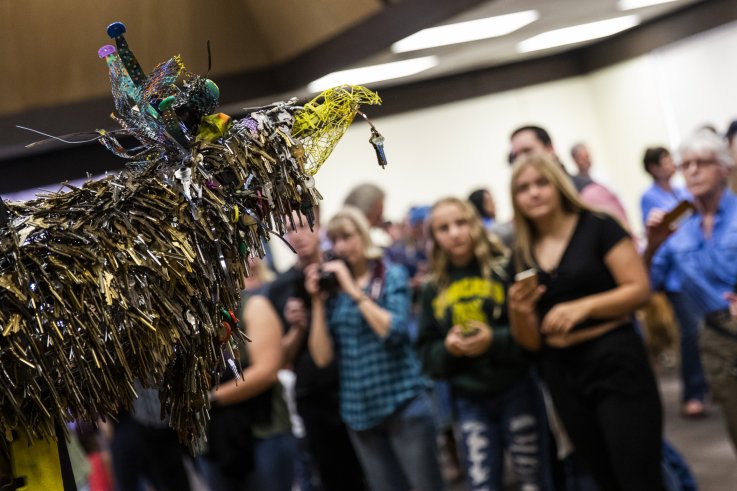 A California-based art therapist has unveiled her latest sculpture—an 800-pound phoenix made from keys to thousands of homes burned down during the Paradise Camp Fire last year.
On Friday, Jessie Mercer of Chico, California, presented the sculpture at Butte County's Center for Learning and Resilience after completing the project the previous Saturday.
"This goes so much further than art," Mercer told local news station KCRA. "It's a representation of people." She went on to say that her goal for the project was to "try to make this look joyful," despite the fact that "it's ridden with sorrow."
Mercer said she began creating the piece "two days after the fire," according to ABC 10. The outlet further reported that she placed collection jars for the keys in 13 locations across five cities before driving 19,000 miles to expand her assortment.
In a symbolic gesture, the mayor of Paradise gave Mercer the key to the city for her efforts as she presented her artwork, ABC 10 reported.
"I feel proud of everyone for being so vulnerable with me, and showing the world—and the nation, that when you come together you can do anything," Mercer said to KCRA. She continued: "There is so much depth to each key and its legacy—generationally or individually—it's just pretty profound."
The Camp Fire, named for Camp Creek Road near Paradise, began last November, killed 85 people, displaced nearly 50,000, and burned close to 19,000 structures, NPR reported.
Last year, German insurance company Munich Re estimated the fire to be the costliest natural disaster in the world for 2018. NPR went on to note that the fire burned more than 11,000 houses in Paradise to the ground, and as of November 2019, only 11 have been rebuilt.
In October, nine active wildfires burned across parts of California, forcing tens of thousands to flee their homes. Earlier this week, it was reported that several of state's fires, including the Maria, Eagle and Kincade blazes, were completely contained.
"I think firefighters obviously are breathing a sigh of relief right now," Cal Fire Division Chief Jonathan Cox said in a statement to the press Thursday. "It was a long and actually one of the more difficult firefights we've had in a while."
According to Reuters, the now-contained Kincade fire in Sonoma County is responsible for the destruction of nearly a third of the 250,000 acres scorched by wildfires across the state in 2019.