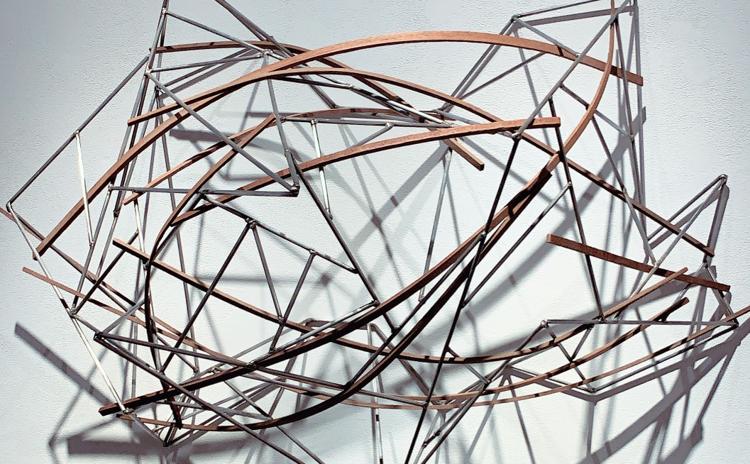 A University of Cincinnati College of Design, Art, Architecture and Planning (DAAP) student was selected to have his artwork showcased in a local gallery.
Manifest Gallery, a nonprofit organization located at 2727 Woodburn Ave. in East Walnut Hills, was established in 2004 by local university professors and students to exhibit the importance of creative expression through research, education and accessible art-based experiences.
"Transcendence," an exhibition that showcases a range of pieces including paintings, embroidery and digital prints, features artists from California to Canada to Denmark. One of these artists is DAAP student Eric Heffington, a fifth-year fine arts major from Cleveland, Ohio.
Heffington was one of only 13 artists chosen to be featured in the show after almost 300 pieces were submitted from all over the world. His piece, "Balance Between," is a large sculpture with an intricate weaving of steel and oak wood pieces. It took him a total of 24 hours to complete, welding the steel pieces together and gently steaming the wood to warp it into place.
"The steel acts as the skeleton and support system to the wood that is weaved between it, pushing it to its breaking point," Heffington said.
Working primarily in sculpture, photography and videography, Heffington said he finds the balance between chaos and order. He uses contrasting elements to create organic interactions, creating tension and pushing materials to their limits.
"The use of industrial materials acts as a support system that the contrasting materials rely on in order to become a more complex form," Heffington said. "My sculptures push the limits of an object so that an experience of unity and balance beyond the physical is achieved."
The exhibit called for artists to "go beyond the normal" and strive to create work that addressed the theme as a subject rather than an ambition or dedication.
Along with regular exhibitions, Manifest also has education and artist residency programs. Its mission is to stand for quality in the arts and encouraging learning outside academics. The "Transcendence" exhibit is accompanied by two other adjunct shows called "Light" and "Dark" each occupying a different room at Manifest Gallery with a unique theme to showcase.
The "Light" exhibition showcases illumination, exposure and brightness "from vision of the world around us to messages sent through fiber optics." It features artists from around the United States including another DAAP fine art student, Erin Schaefer.
The "Transcendence," "Light" and "Dark" exhibitions are free to attend and will display in Manifest Gallery until Dec. 6.