In it, a spaceship crashes into a red planet and a wounded and dreadlocked cosmonaut stumbles upon a seemingly coin-operated robot DJ.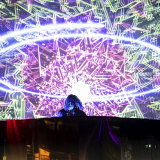 Other distinctive anime clips such as Zodiac Shit from FlyLo's 2010 album Cosmogramma got remixed, the mystical figures and esoteric animals created by artist lilfuchs flashing by like a psychedelic poker machine at light speed.
There were pyramids and giant flayed faces, as well as more abstract scenes, swirling specks of colours coming out of the screen like a murmuration of birds and clouds that seemed to blend into the real smoke billowing onto the stage.
The big question going into the night was whether the whole 3D business would all be a bit of … a gimmick. And for a moment or two, it strayed close – a giant spaceship that flew out of the screen and above the crowd got a chuckle or two.
But the calibre of the music made this a serious affair, even when FlyLo was being just plain silly.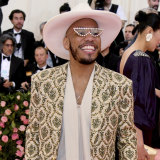 His is a style that seems to both encompass and defy many genres. Searching for reference points, I came up with Madlib and Aphex Twin before deciding I hadn't really heard anything quite like it.
Visually, there were touches of Daft Punk's aesthetic geometry and Terry Gilliam's mad collages. The second song of the night in particular felt like a homage to the recently deceased Monty Python star.
There were plenty of high-profile collaborations in the music including Anderson Paak and Thundercat, but FlyLo was alone on stage and often cloaked in darkness. His plain black tee melded him into the background, dreads swaying as he gave a high-energy performance.
The 3D glasses did make for something of a solo journey and despite FlyLo's cajoling at the end, it was pretty hard stuff to dance to. Or even get your head around.
But it was a show like no other – memorable and mind-bending.
Joe Hinchliffe reports breaking news for The Age.