White supremacist group Patriot Front is allegedly responsible for posting flyers containing hate speech around downtown Ferndale, Washington in what may have been a backlash against a #NoHate sculpture on display at a local high school, according to The Bellingham Herald.
"We do not have a full count yet," said Ferndale City Spokesman Riley Sweeney in an interview with the Herald, "although I've found two this morning."
Patriot Front's involvement was not confirmed by Sweeney. "I agree that it seems more than circumstantial," Sweeney said, "but I don't want to speculate about an ongoing investigation."
Newsweek reached out to Sweeney for further comment but did not receive a response in time for publication.
Patriot Front propaganda was first discovered in Ferndale in July on utility poles after a parade which featured a float flying a Confederate flag. Creators of the float said the inclusion of the flag was unintentional.
After that, residents began finding posters from Patriot Front, including one that read "Keep America American."
In response, a heart-shaped sculpture bearing the hashtag #NoHate was installed at Ferndale High School last week.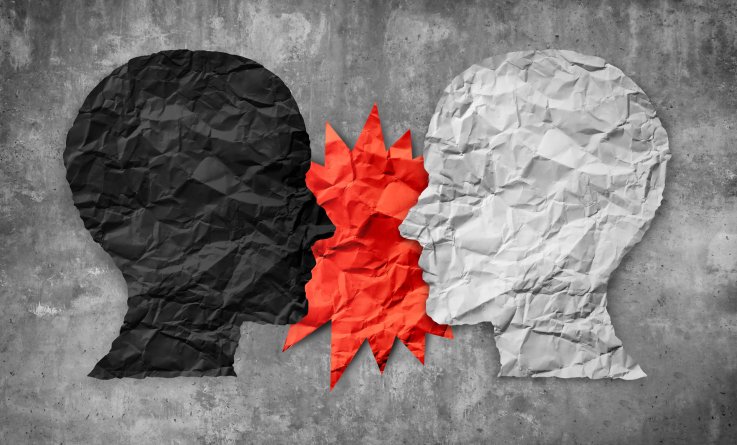 "Our bottom line—my bottom line—is that the Ferndale School District must be a place where every student has the right to learn in an environment that is free of harassment, bullying, violence and racism," said Ferndale Schools superintendent Linda Quinn concerning the sculpture. "This is not about politics. It's about doing what's right."
"Ferndale is a welcoming community to all people, regardless of race, religion, sexual orientation or country of origin," Sweeney said in an email to the Herald. "We stand united against racist, xenophobic groups that promote bigotry and hatred. Our country has an ugly history of racism and that is why it is more important than ever to speak out and say with absolute clarity that Ferndale rejects white nationalists and anyone who wishes to divide us by prejudice."
Formerly affiliated with the neo-Nazi group Vanguard America, Patriot Front split from that group after the 2017 "Unite the Right" rally in Charlottesville, Virginia. During that rally, a white supremacist drove his car into a crowd of people, killing protester Heather Heyer. James Fields, the driver of the car, was sentenced to life plus 419 years.
Patriot Front's brand of "activism typically consists of anonymously posting flyers, dropping banners off buildings or overpasses or performing miscellaneous acts of public service such as park cleanups," according to the Southern Poverty Law Center. "Virtually all its activities are undertaken with propaganda value in mind."
"Those of foreign birth may occupy civil status within the lands occupied by the state, and they may even be dutiful citizens, yet they may not be American," Patriot Front's manifesto reads in part. "Membership within the American nation is inherited through blood, not ink. Even those born in America may yet be foreign. Nationhood cannot be bestowed upon those who are not of the founding stock of our people, and those who do not share the common spirit that permeates our greater civilization, and the European diaspora."