The meaning of Brad Pitt — as actor, star and supreme visual fetish — can be traced to the moment in the 1991 film, Thelma & Louise, when the camera pans up from his bare chest to his face like a caress.
William Bradley Pitt was born in 1963, but Brad Pitt sprang forth in that 13-second ode to eroticised male beauty, initiating a closely watched career and life, dozens of movies, and libraries of delirious exaltations, drooling gossip and porny magazine layouts.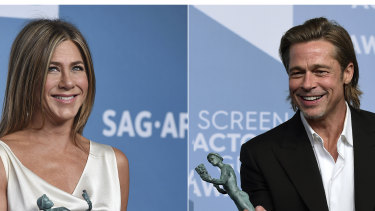 The delirium has resumed with Quentin Tarantino's Once Upon a Time … in Hollywood, in which Pitt plays the Pitt-perfect role of Cliff Booth, a seasoned stuntman and coolest of cats. Everything about Cliff looks so good, so effortlessly smooth, whether he's behind the wheel of a Coupe de Ville or strolling across a dusty wasteland.
Novelist Walter Kirn once wrote that Robert Redford "stands for the (movie) industry itself, somehow, in all its California dreaminess". In Once Upon a Time, Tarantino recasts that idea-ideal with Cliff, exploiting Pitt's looks and charm to create another sun-kissed, golden and very white California dream.