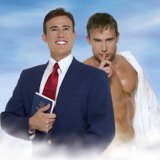 MOVIE PASSES TO THE LIGHTHOUSE
Director Robert Eggers psychological horror film The Lighthouse is in cinemas on Thursday. When Ephraim Winslow (Robert Pattinson) arrives for work as an assistant lighthouse keeper to Thomas Wake (Willem Dafoe) on a remote and mysterious New England island in the 1890s, the situation proves explosive. Strange things happen against the backdrop of seemingly never-ending storms at night and Winslow becomes obsessed with finding out why Wake never lets anyone into the upper lighthouse beacon. Entries (including postal address) that reach MelbRSVP@nbcuni.com before midnight tonight have the chance to win one of 20 double passes on offer.
WINNERS
Movie Passes To Dolittle: Lorraine Cryer, David Toma, Rosi Izzo, Michael Clarebrough, Vicki Stiliadis, Mychau Hoang, Graham Sutherland, Ben Starick, Andrea Munro, Angela Zmak, Met Kuut, Larraine Pope, Julie Cigler, Peter Price, Victoria Dorembus, Anne Davies,Chris Brewer, Judith Caine, Pam Ball, Robbie Klitzing.
The Melbourne Zoo Twilights: Daniel Rockman and Marita Galani.
National Theatre's Production Of Present Laughter: Christopher Bradke, Tim Webster, Lesley Hale, Larraine Pope, Lisa Caldwell, Catharine Tate, Diana Green, Carmen Wiseman, Stephen Matthew, Helen Ward, Barbara Wolfson, Bev Devidas, Cindy Scott, Lucy Hardman, Karen Darcy.