"They are throwing themselves at the mercies of commercial interests, which will only exploit their celebrity and the public's desire to know everything about their life outside of the palace … it will be open slather and they will be powerless to control it," predicted long-time Sydney paparazzo Jamie Fawcett.
And he's right.
A good example of just how much control the couple have had can be found in their official tour of Australia in October 2018.
Over the years I have dipped my journalistic toe in the rather well-mannered mosh pit which is the media circus that follows an official royal tour around the countryside. This contingent of reporters, photographers and camera crews has a core of long-time royal correspondents, mostly from the British media.
They exist within the royal slipstream and the deal is they co-operate with with the Royal family in return for being granted access, albeit in highly controlled media opportunities.
The media mob knows these tours are run like clockwork, with each move the royals make orchestrated with the full knowledge of the press pack. The aim is to maximise the photo opportunities and meet the various criteria for stakeholders, from Buckingham Palace to local politicians keen to press the flesh and get a shot with the ultimate global celebrities.
Even before a royal sets foot on Australian soil their movements, outfits and camera angles are scheduled down to the nearest minute and have been painstakingly mapped out by a team of royal courtiers, stylists, media advisers, publicists, protocol officers and security experts, who provide the detailed itinerary to the media well in advance so editors can plan their coverage.
It takes much more than a village to pull off a royal tour, and Australian taxpayers covered 15 VIP flights associated with Harry and Meghan's tour at a cost of $57,663. This included four "ghost" flights during the visit – planes that arrived in Sydney or returned to Canberra with no passengers before or after transporting the official party.
'When Prince William and the Duchess of Cambridge visited Australian shores in 2014, their 10-day trip cost about $474,000.'
Documents released by the Department of the Prime Minister and cabinet indicated the total cost to taxpayers of the 16-day tour was $410,579.96.
When Prince William and the Duchess of Cambridge visited Australian shores back in 2014, their trip, which only lasted 10 days, cost more – about $474,000.
But by going rogue, the Sussexes would have to kiss goodbye to such luxuries as state-sponsored private jets and all-expenses paid excursions, despite their mega celebrity.
Prince Harry is by no measure on par with super-rich folk – think multi-billionaires Bill Gates, Warren Buffet and Jeff Bezos – who can fund their own private army of security and have fleets of private jets at their disposal.
Prince Harry's net worth is widely estimated to be around £30 million ($57 million), which is partly made up of inheritance from his mother, the late Princess Diana, while Forbes has estimated the Duchess of Sussex has a net worth of $US2.2 million. That's hardly Oprah Winfrey territory.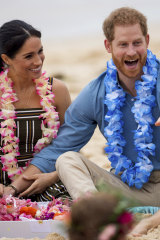 The couple have already enjoyed the largesse of wealthy patrons, like the billionaire who gave them his Canadian mansion to call home over the Christmas holidays.
And while it has not been revealed what, if anything, they gave in return for the free accommodation, such patronage does pose a whole new set of questions for the Royal family, already reeling from Prince Andrew's chummy relationship with dead paedophile billionaire Jeffrey Epstein.
The Sussexes had refused to reveal it was Canadian mining magnate Frank Giustra, 62, who loaned the home where they finalised their plan to scale back their royal duties over the New Year, but as they know only too well, when it comes to royal intrigue, things don't remain secret for long.
They'd better get used to it.
Andrew Hornery is a senior journalist and Private Sydney columnist for The Sydney Morning Herald.