In the case of Dodecalis luminarium, working with complex geometric shapes and materials like PVC has frequently presented challenges or, in Parkinson's words, a "battle" within the design process.
Loading
"The difficulty is that when you put pressure inside the structure, where those points join each other at their bases, because it's inflatable, the structure is fighting to push it out and become a sphere," he said.
"Ultimately, the pressure just wants to make everything into a sphere, because it's a simpler surface. So Dodecalis represents something of a battle between that fundamental pressure problem."
Working with unconventional material combinations has long been intrinsic to Parkinson's design process, particularly in his use of PVC, which first piqued his interest in the '80s while working on a public social architectural project in the United Kingdom.
"I was taken by the intense luminosity that you get working specifically with PVC," Parkinson said. "There are few other materials that can — if you get the mix right in the plastic — transmit light with such radiant intensity. It's that core experience of the light, and of a sense of wonder that that core experience can generate, that is the starting point [for my work]."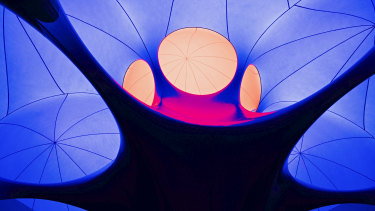 Looking to reach further than an adroit comprehension of geometry alone, Parkinson suggests that the strengths of his work, and Dodecalis luminarium in particular, rest in the way his structures stage an ephemeral intergenerational experience, offering access to people of all ages and backgrounds.
"Fundamentally, the structure will [bring everyone together]," he said.
"Often it might be kids who oblige their parents to come along with them — it's great as a sharing experience between generations. It's not something that parents might necessarily have any familiarity in."
And while accessibility and unification have become core talking points within the public art discourse, Parkinson is convinced that it has other benefits, too.
"The presence of art in the public space, is something that is quite valuable for humanising a space," Parkinson said. "One of the most valuable things as a piece of public art in the public space, is that it is accessible to a very broad public. Both physically, and in terms of just its simplicity. And it doesn't take an effort to get something out of it."