First, oysters and champagne. Then the menu rapide set lunch; chicken liver parfait, followed by steak frites for Ashley and fish of the day for me. We both order a glass of the rose.
"I do love a long lunch," he says. The gravity of this remark only begins to weigh several hours – and drinks – later.
He also loves cooking and entertaining. "I'm a very good cook," he says, showing me an Instagram-ready styled photo of his latest culinary triumph on his phone. Organising his upcoming 40th birthday celebrations ("it's over three days") he prepared the meal for the event's "steering committee" – halloumi and apricot with honey, a fattoush salad with a rubbed lamb leg, "with different middle eastern spices. I love entertaining at home as much on stage."
He won't be catering the actual party though, as the guest list is currently at 430 people. The party is at Sydney's Lyric Theatre and there'll be songs from Rhonda Burchmore and jazz vocalist Emma Pask. Then there's his "birthday float" in the Mardi Gras (where Ashley has long been considered royalty).
"And it's an '80s theme, because I was born in 1980," he says, showing me a photo of Dynasty-era Joan Collins dress – all crushed satin and voluminous sleeves – he's planning to copy.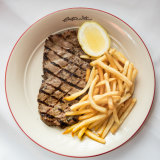 Ashley, best known for his uncanny (and very funny) Liza Minnelli and Shirley Bassey impersonations, has always been a fan of glamour.
"I was a Bassey fan when I was five! There's something about it that had an affinity with me," he says. "When I first started doing drag. I just fell in love with it: the sequins, the feathers, those things are my favourites! To be able to sparkle … you just feel amazing."
The young Ashley never considered any other career path.
His (decidedly non-showbiz) parents supported his vocation early on; he was a student at the Johnny Young Talent School at five and a regular on TV's Romper Room, where, at six, he would "just take over". "I knew then – I'd tell everyone Romper Room 'I'm going to be a singer'."
He was a member of children's theatre company Shopfront for years and after high school his parents wanted him to study somewhere like NIDA. Ashley convinced them to give him a year to try and get work.
"I was working from the second I got out of school," he says of his first gig at a theatre restaurant.
Then he found regular work in what now seems an unlikely place: the RSL circuit. "It was odd. I was there for the end of that variety period in the late '90s … but I used to do Friday and Saturday nights, every week."
Not in drag though.
"Just as a very homosexual man. Very gay! Well, just me, really. Which some of them didn't cope with," he says. "I got 'NTR' – never to return – only because of homophobic bookers… but I did get nominated for the Mo Award for best new talent when I was 18! It was crazy."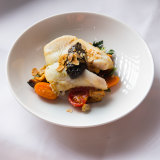 In 2001, after years of working up a "sophisticated cabaret act" which he'd enter every year the Sydney Cabaret Convention, he began doing drag. But with actual singing. A handful of his own shows and a couple of years later and he was appearing in main-stage productions like Priscilla: Queen of the Desert and Hairspray. And perhaps his most unusual (Helpmann nominated) role in Les Mis – as a man.
But Ashley was also perfecting his own shows: I'm Every Woman, a celebration of female divas, nominated for a Sydney Theatre Award for Best Cabaret, then his 2012 Helpmann nominated Diamonds Are For Trevor, his Shirley Bassey show. And of course, his Liza shows.
Before our lunch I watched videos of Ashley singing and my partner asked why I was "listening to so much Shirley Bassey".
Ashley has similar stories, the best of which might be the older couple who made it almost through the entirety of Diamonds Are For Trevor (evidently without reading the show title) before realising they were not seeing the real Bassey.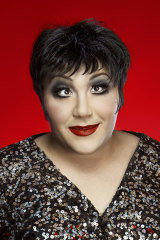 According to Ashley's source, to whom the couple revealed "we never miss Shirley", they were shocked when the moment arrived where Ashley does his big reveal. "They must have thought 'ooh, she's put on some weight'," Ashley says, cackling with delight.
And that she's hamming it up?
"Oh no! I catch myself sometimes and think I probably didn't go far enough. I watch myself, then I watch her and go oh, that was quite subdued!"
Bassey herself has, apparently, seen clips of Ashley, ("Her PA told me she's thinks I've got a good voice, and she loved the title") and when he performed in New York last year, Liza Minnelli sent her assistant along to check out Liza's Back (is Broken) – slightly nerve-wracking as Ashley plays Liza "kooky – and a bit drunk".
"But he said to me, 'how do you know she's really like that? Have you met her? It's uncanny'. Apparently he told Liza!"
This month Ashley is performing a series of concerts with Conchita Wurst, the Austrian singer who gained international fame after winning Eurovision in 2014.
Now great friends, the pair met when Ashley performed in Vienna. "He came up to me saying 'I loved your show' and I was like 'oh, that's a bearded drag queen, sure – whatever. That's nice'."
The next time Ashley saw Conchita was on TV when he won Eurovision. "Then I got an email, saying 'I've just been in a YouTube hole watching your videos – you're so amazing'. I'm like 'doll, you just won Eurovision!'"
For this tour – the first time Conchita has sung in Melbourne – they'll perform separately as well as together, backed by a symphony orchestra. "There's going to be a big Bond theme segment, and some different songs," says Ashley. There'll be some Elton John, Dusty Springfield and a tribute to Peter Allen and Judy Garland, and a special appearance by Kate Miller-Heidke.
The real issue is what to wear.
"I feel a bit intimidated by Conchita because he's such a fashion icon – last time we worked together he wore a gold pantsuit and I was like, who's that by? It was Dolce and Gabbana. Of course. What am I wearing? House of Priscilla!"
Meals cleared, a bottle of rose and a couple of extra glasses down, and we've covered everything from veganism ("I shouldn't publicly bitch about vegans, but I don't understand the mimicry of food. Says me as a female impersonator!"), hot drinks, of which he doesn't partake, not even the singer's standard hot water and lemon ("They all do that, but I don't – it's all psychosomatic"), his controversial opinion of the musical Hamilton ("I hated every second of it! Lin-Manuel Miranda is incredible but the whole f–kin' show is rap! Nobody warned me") and his decision to have a sabbatical this year.
"I feel like it's time for a change, to shake things up a little," he says, "and I haven't had any time to figure out who I am without being on stage."
He hopes to again direct the Sydney Cabaret Festival later this year but is thinking of exiting stage left, at least for the time being.
But of course, he does have some grand plans. He might try his hand at Eurovision ("maybe next year," he says, adding he's already discussed writing a song with no less than composer John Foreman) but he's confident TV is the next step.
Loading
"Since we're in the 'golden age' of!"
He's had several television roles in the past year and has plans to do another Foxtel Arts special, but he's also creating his own shows.
"I've already got some great ideas, ready to go," he says, and shares a couple. They are of course, very funny. "So if anyone from Netflix is reading…"
Trevor Ashley and Conchita Wurst, February 28, Arts Centre Melbourne. artscentremelbourne.com.au
THE BILL PLEASE
Enrecote, 131-133 Domain Road, South Yarra. 9804 5468.
Open 7 days, 7am to late.
Kylie Northover is Spectrum Deputy Editor at The Age