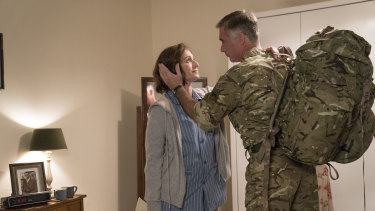 There are now 75 real-life military wives' choirs around the world, with about 2300 women involved. The most famous of them was formed at Chivenor military base in Devon in 2011 under the direction of TV choirmaster Gareth Malone. The choir was the subject of a television documentary and went on to perform for the Queen and have a Christmas number one, Wherever You Are. Some elements of their story are included in Military Wives but Cattaneo drew his inspiration largely from a group that was started a little earlier, without any professional help or TV razzamatazz, by women at a garrison in Catterick, Yorkshire.
He remembers visiting Catterick when the script, written by Rosanne Flynn and Rachel Tunnard, was in its infancy. "I went to a kind of coffee morning-creche thing and got chatting to some wives, trying to pick their brains for little details," he says. A line in the film from a woman who says she was always tidying the house "because I'd hate the house to be untidy if I got the visit no one wants" comes from those conversations; so does the shared complaint about living for decades in army accommodation with regulation magnolia walls. He heard then about an officer's wife who said she would never have been able to heal after her husband's death without the choir. She was a major reason for its existence. "It was such a tonic. It obviously can't make someone come back to life, but it helps with support and the cathartic effect of singing."
At that point, he knew nothing about military life and its peculiar hierarchies. As British social categories slowly erode, he says, the army remains a bastion of class distinction. "When I started to talk to military personnel, they said the first thing they ask as a wife is, 'What rank are you?'" says Cattaneo. "Not, 'Where are you from?' or anything else. That seemed like a very interesting dynamic to put between two characters. When I met military wives, they all said that what was so powerful about the choir was that it broke those boundaries down. You were no longer an officer's wife or a soldier's wife. You were an alto or a soprano. Everyone gets reshuffled according to their voices. It broke those barriers in a very profound way."
Those insights were acquired on the hoof; initially, putting music on film was the project's big draw for him. "Because music really is Route One to the emotions. Also, I wanted to create the spontaneity of an amateur choir who have never sung before, which we did very much for real; I tried to ensure there was very little rehearsal for the early scenes, so the poor actors are really floundering a bit when they're singing those songs for the first time." Lisa's character was developed to the point where she was described as a former aspiring songwriter who had let her dreams slip. Horgan is 49, which meant Lisa's musical tastes would have been forged in '80s clubs where girls danced around their handbags to Cyndi Lauper and Sister Sledge.
Those songs certainly work. "I admit I've been surprised how the music seems to hit people much more than I would have expected," says Cattaneo. "On set, the crew would get choked up when the women were singing, even the happy songs. I thought: 'This is weird, they must be tired!' But they said no, there is something about it. And it's been the same thing with audiences. Some people have told me they well up after 20 minutes and never stop crying."
One army wife writing in Britain's the Telegraph warned readers to bring tissues; she had not expected to be so moved, she said. She was also startled by how much she recognised. "The Skype calls that freeze halfway through; the 'blueys' from some sandpit in the Middle East; letters home in familiar, beloved handwriting to be caressed and pored over, but which never quite say what the other person is really feeling." Not to mention the wine o'clock evenings and getting blotto with the girls at pub karaoke nights.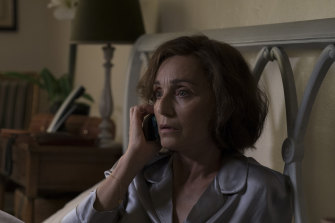 The wars fought in those sandpits have, of course, been highly contested at a political and policy level. There is one moment in Military Wives when the choir encounters a small protest against British involvement in Afghanistan. "We can't afford to be against the war," says Lisa. "We're married to it." Cattaneo says there was a decision made not to get any further into the morality of that or any other war. "Obviously, I wanted to make a more universal story about the power of togetherness and the power of music," he says. "It's about the position of these women dealing with day-to-day issues, not the really big issue of the conflict. The story's not about that." It's the singing that counts.