The reversal, never fully explained, remained the biggest disappointment of the sculptor's career, which was sidelined by two world wars and ended with her mysterious death in 1948.
Sydney born Dickens, a graduate of the National Art School, feels for Ohlfsen's disappointment. "Án artist's life is not an easy life," she says. "Whether her sexuality had something to do with it, I'm sure that being a woman was enough to have that opportunity removed."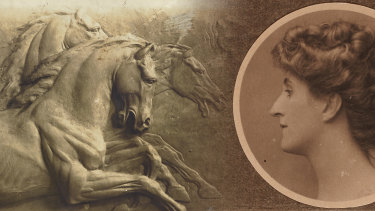 Special exhibitions curator Jackie Dunn said the gallery's curatorial staff did weigh up replicating Ohlsfen's work but a single black and white photograph of her plaster cast was all that remained of the artist's original vision.
"Ït's quite a difficult thing to imagine producing the work of an artist not still around, that's was our primary concern."
With the entire life-sized plaster missing, final decisions around detailing, patina, and the depth of the relief was all guesswork.
"There is a sense that, 100 years after the commission, this seems such an extraordinary opportunity to bring the existing Walter Vernon designed building and Sydney Modern together, to look towards the future while referencing the history of the site," she said.
Loading
Gallery director Dr Michael Brand said the commission was one way of redressing the representation of women artists in its collection.
Over the next 12 months, Dickens will work with the gallery to bring the facade artwork to fruition. Once installed next year, the commission will remain in place for three years.
Linda Morris is an arts and books writer at The Sydney Morning Herald