It's been to the Adelaide Fringe three times but this is the first time the show has made it to Melbourne, from which it will embark on national tour until April, giving Elton John a run for his money.
Set in a pub called The Jungle, the show is packed with pop hits from John Farnham's You're the Voice to Guns N' Roses' Welcome to the Jungle, Sia's Chandelier and Katy Perry's Teenage Dream. (For that last number, one lucky woman in the audience gets to have all nine singers serenade her at once).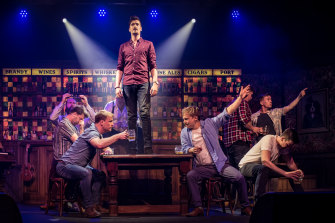 But aside from top-notch performances – they're all multi-instrumentalists, and there's even some tap-dancing – key to the show's appeal has been its sense of inclusivity, honesty, and a willingness to confront unhealthy male stereotypes.
"The biggest appeal for everyone I know – family, friends who've seen it – is seeing the genuineness of it," says touring cast member Matthew Hobbes. Instead of writing nine characters for the show, they each play themselves, though with certain aspects of their personalities drawn out.
"Annoyingly my character's called the 'pub bore', so I enhance the boring part of my life," Hobbes jokes.
Bray, who in the show narrates words by poet Ben Norris along with singing and playing instruments (he learnt the trumpet especially for the show), quotes one of his favourite lines: "This isn't a 'leave it outside' kind of place, or a 'boys don't cry' kind of place."
We're playing against the stereotypes. You can have a good time but you can also speak your mind, and have emotions.

Matthew Hobbes
"It's about, let's sit down and have a drink and let's talk about toxic masculinity," Bray says.
"Let's talk about being there for each other, let's talk about breaking down these walls of posturing and how you appear and what makes you stalwart and dependable. Let's just lay it all down, lay it all bare and connect."
"We're playing against the stereotypes," says Hobbes. "You can have a good time but you can also speak your mind, and have emotions. You can trust your friends, you don't have to withhold anything. I think that's really important and appealing."
The cast, all from Britain and Ireland, may have missed out spending Christmas day at home with their families (they were all on long-haul flights to Melbourne) but touring together has solidified their friendships into what they call their "Choir of Man fam".
"This is not just about singing, it's about what we bring to the show," says Bray. "When we're on the road and touring, that's what we have to deal with as well … We've become a little family and we've got each other's backs."
"We spend every day together," says Hobbes. "It does genuinely create that family bond."
Audiences are invited to share in the generosity of spirit by joining the cast for a beer before the show each night.
Choir of Man is at Arts Centre Melbourne until January 12, then tours regional Victoria and greater Melbourne, March 18-24. choirofman.com
Hannah Francis is Arts Editor at The Age