Charlize Theron has been rightly nominated in the best actress category for her unerringly accurate performance as Megyn Kelly, who is at the top of the pecking order governing Fox's array of women presenters when the film opens. Kelly's career as a lawyer before coming to Fox has given her an armouring of self-confidence which has clearly served her well in warning Ailes off from the very start and her status is secure. But Gretchen Carlson's story is different. Played by Nicole Kidman, she's never quite reached Kelly's level of stardom. She's also had to go on resisting Ailes and in return, she's been belittled by him for so long that she's now being forced out of her job.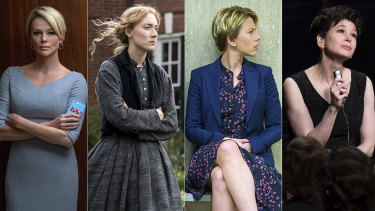 In contrast, Robbie's Kayla Pospisil – a fictional character inspired by the testimonies of various Fox women – is just starting out. And she's innocent enough to imagine that her career might benefit if she can sit down with Ailes and talk to him about her ambitions. When he proves to be delighted for all the wrong reasons, it's her sense of shame which carries the film's main message. It's there in her close-ups – an excruciating authenticity which punches home the full effect of the violation he's inflicting on her.
Loading
It was Martin Scorsese's Wolf of Wall Street (2013) with Leonardo DiCaprio which provided Robbie with her Hollywood breakthrough. But it was I, Tonya, Australian director Craig Gillespie's "mockumentary" about the former ice-skating champion, Tonya Harding, which showed just how good she can be. Harding delivers her own version of her life story, culminating in the accusation that she helped to arrange a physical attack on rival skater, Nancy Kerrigan.
And it's a wonderful performance – a masterclass in deadpan disingenuousness and self-delusion. There were no surprises when it won her an Oscar nomination. And if she wins the Oscar this year, you can bet that memories of her Tonya may have helped some voters make up their minds.
Her main competition for best supporting actress is Laura Dern for Marriage Story but whatever happens, Robbie has plenty of time and a fine instinct for the right roles.