The 2020 upfronts were a mixed bag of old, recycled and revived formats, interesting ideas and a couple of out-there curios that could end in tears or, as television's whim has proven in the past, become the biggest hit of the year. Our critics consulted the ghosts of TV past, present and future to divine a list of the shows which may be everything, or nothing, but were intriguing enough to catch the eye.
The Secrets She Keeps (Ten)
A six-part "domestic noir" based on the book of the same name by author Michael Robotham. The Secrets She Keeps is about two women from different worlds who share one thing: a secret that would blow both their worlds apart. "Both will risk everything to conceal the truth," promises the marketing material, "but their worlds are about to collide in one shocking act that cannot be undone." The series, starring Jessica de Gouw and Briton Laura Carmichael, is directed by Jennifer Leacey and Catherine Millar from scripts by Sarah Walker and Jonathan Gavin.
Stateless (ABC)
Cate Blanchett, Yvonne Strahovski, Jai Courtney and Asher Keddie star in this drama about four strangers in an immigration detention centre: an Afghan refugee fleeing persecution, an airline hostess escaping a cult, a young father escaping his own life and a bureaucrat swept up in a national scandal. Created by Blanchett, Tony Ayres and Elise McCredie for Matchbox Pictures, the series is directed by Emma Freeman and Jocelyn Moorhouse from scripts by Elise McCredie and Belinda Chayko.
New Gold Mountain (SBS)
A murder mystery, directed by The Hunting's Ana Kokkinos, and produced for SBS by Goalpost Television, which is the "untold true story of the Australian gold rush from the perspective of Chinese miners who risked everything for a chance at unlikely wealth in a strange land". The series will shine a light on the largely untold story of Australia's Chinese migration wave in the 1850s and, in addition to creator Peter Cox, will feature a writing team that includes Benjamin Law and Yolanda Ramke.
Between Two Worlds (Seven)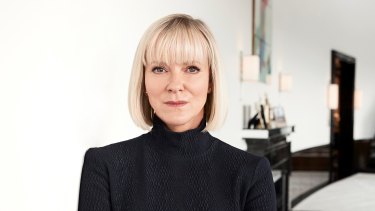 From Packed to the Rafters creator Bevan Lee, Between Two Worlds is described as a "high concept thriller" about a woman who lives in a high-powered, bitter world and is trapped in an unhappy marriage. That world, however, seems to become enmeshed in the world of a widow and her two children who seem to live an idyllic life. The cast includes Hermione Norris (Cold Feet), Philip Quast (Picnic at Hanging Rock), Sara Wiseman (A Place to Call Home) and Aaron Jeffery (Wentworth).
Informer 3838 (Nine)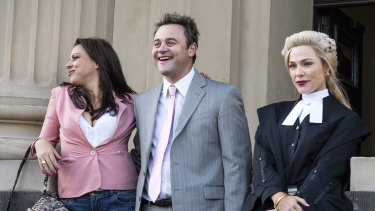 The highly anticipated drama based on the story of Melbourne police informant Lawyer X will star actress Ella Scott Lynch in the central role. Though the series is not being produced under Nine's long-standing Underbelly crime drama brand, it will lean into the Underbelly world with reports that original Underbelly castmembers Gyton Grantley and Robert Mammone will reprise their roles as Carl Williams and Tony Mokbel. Lynch described the role as "dynamic, divisive [and] complex".
Everything's Gonna Be Okay (Stan)
The new 10-part comedy from Australian comedian Josh Thomas, commissioned originally for the Disney-owned US channel Freeform, about Nicholas, a neurotic 20-something Australian who is visiting his father and teen-aged siblings in the US when their father unexpectedly dies. That tragedy leaves the group struggling to cope, and Nicholas to the realisation that he has to move in and hold his younger family together. Like its forebear, Please Like Me, the series is created and written by Thomas and stars Kayla Cromer and Maeve Press as Nicholas's sisters.
Shantaram (Apple TV+)
Based on the semi-autobiographical 2003 novel by Gregory David Roberts, Shantaram is the story of a convicted Australian bank robber who escapes jail and flees to India, where he reinvents himself as a doctor and later is caught up in a series of crazy adventures including arms trafficking in Afghanistan. The series will be filmed in Victoria with the first and last episodes directed by Justin Kurzel from scripts by Eric Warren Singer.
Avenue 5 (Foxtel)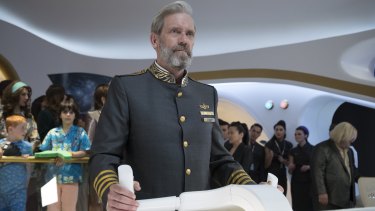 Have we finally cracked the sci-fi comedy recipe? For the longest time Red Dwarf was it, though The Orville has pushed into the genre successfully. Armando Iannucci's Avenue 5 is taking the historically high concept of science fiction comedy to the next level, set "in the future, mostly in space" and starring Hugh Laurie as Ryan Clark, the captain of a residential space liner named Avenue 5. The series also stars Rebecca Front (as Karen Kelly, a passenger), Josh Gad (as Herman Judd, the ship's billionaire owner) and Ethan Phillips (as Spike Martin, a former astronaut who is now a womanising alcoholic).
Dracula (Netflix)
Developed for television by the creative partnership behind Sherlock – Mark Gatiss and Steven Moffat – this recreates the world of Bram Stoker's now legendary novel, about the Carpathian count who travels from his decaying, dying world to Victorian London, a city teeming with life. Claes Bang will play Dracula, supported by an impressive cast which includes Joanna Scanlan and former Space: 1999 star Catherine Schell.
Star Trek: Picard (Amazon)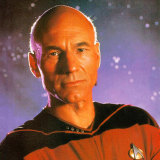 A sequel of a sort to Star Trek: The Next Generation, this series picks up the later life of former Enterprise captain Jean-Luc Picard (Patrick Stewart). Now retired and living at the family vineyard in France, Picard is swept up in a political thriller influenced by both the destruction of the Romulan homeworld and the death, in the final Next Generation film, of his colleague, Commander Data. The show features an all new cast, plus appearances by TNG-era characters including Will Riker (Jonathan Frakes), Deanna Troi (Marina Sirtis) and Seven of Nine (Jeri Ryan).
Michael Idato is the culture editor-at-large of The Sydney Morning Herald and The Age.