It is not quite the disembarkation of Noah's Ark, but the first animals of the Waco Sculpture Zoo have emerged from storage and taken their perches in and near Cameron Park along University Parks Drive.
Almost two years after the project was announced, the Waco Sculpture Zoo has started to take its physical shape with city workers installing bronze representations of a Sumatran tiger, a box turtle, a whitetail deer, a gerenuk and a thoughtful "Wise Elephant" on their concrete bases.
The weeks ahead will see the outdoor menagerie grow with the balance of the 28 sculptures placed by mid-January, weather permitting, Waco senior parks planner Tom Balk said. A Sculpture Zoo dedication is penciled in for Feb. 9, said Fiona Bond, executive director of the nonprofit arts organization and project leader Creative Waco.
"It'll be a chance to have the donors, the artists and all the people who made this possible … together to thank," Bond said. "It takes a village."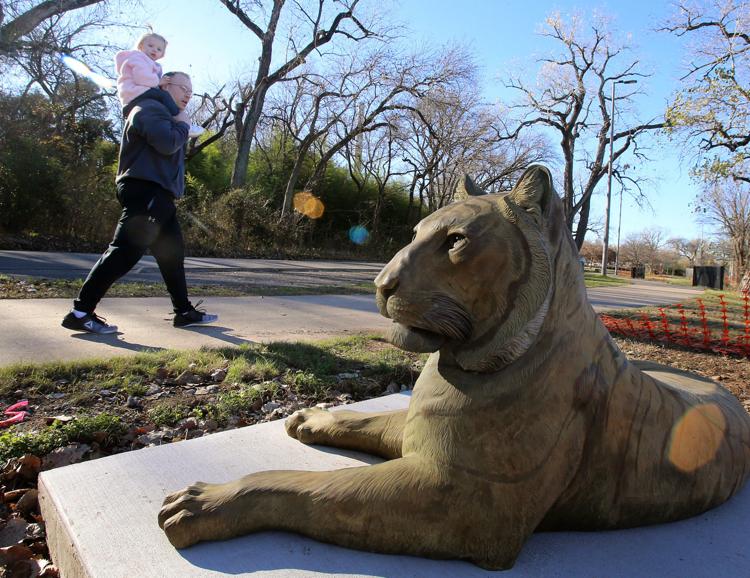 The idea of the Waco Sculpture Zoo began as a way to celebrate the Cameron Park Zoo's 25th anniversary in 2018. What started as a small scale project of some five or six animal sculptures near the zoo grounds expanded when the project's lead donors, Clifton and Betsy Robinson, challenged others to join in support.
Donors responded by pledging more than $700,000 that paid for 28 submitted artists' proposals, expanding the project's footprint along University Parks Drive and into Cameron Park near its University Parks entrance.
Locating sculptures in the Brazos River floodplain meant their supporting bases would have to meet Federal Emergency Management Agency standards, which required the structures' foundations be designed to withstand a 100-year flood.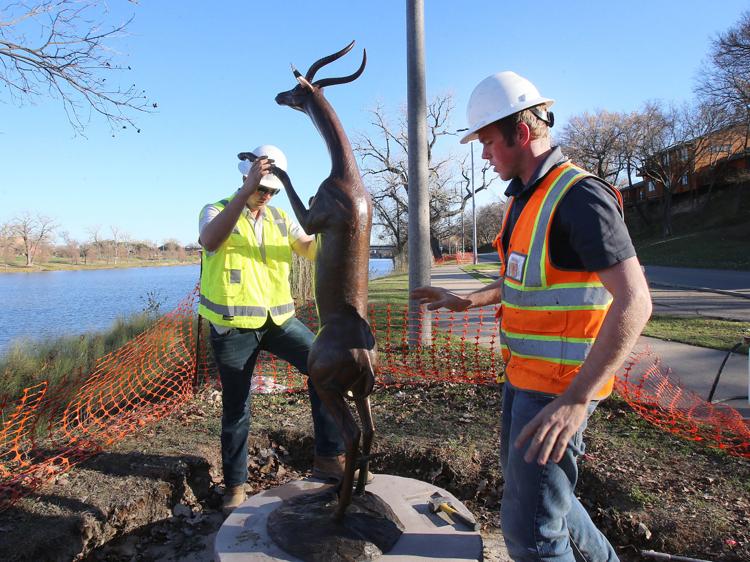 Soil studies and engineering work, then contract bidding, construction and pouring of concrete bases added roughly a year to initial project timelines that did not account for the requirements that go with building along the river.
Sculptures completed to meet demands of the earlier timeline remained in storage during that time.
The project's final phase started last week with city workers and contractors placing the first sculptures on their bases, located on the river side of University Parks Drive, roughly from Lorraine Drive to the zoo's southern entrance.
The five sculptures now on display — David Turner's "Box Turtle II," Tom Tischler's "Sumatran Tiger," Bob Guelich's "Whitetail," Kent Ullberg's "Gerenuk" and Trevor O'Tool's "Wise Elephant" — represent only part of the full sculpture zoo.
More will be installed before Christmas, Balk said.
"The vast majority (of sculptures) are ready to go," he said. "We're thrilled to be at this point. … Some of the most exciting ones are to come."
Balk said the initial installations are showing the result of time spent in determining which sculptures should go where.
"Creative Waco and my team and I must have walked that trail at least six times," he said.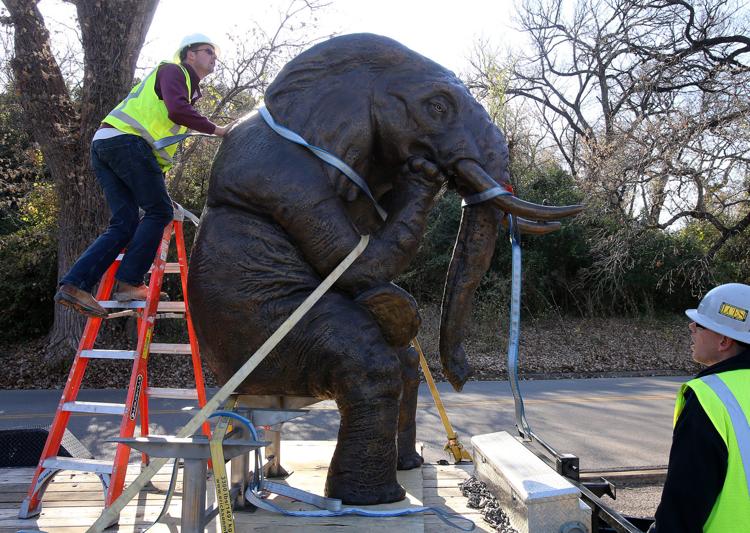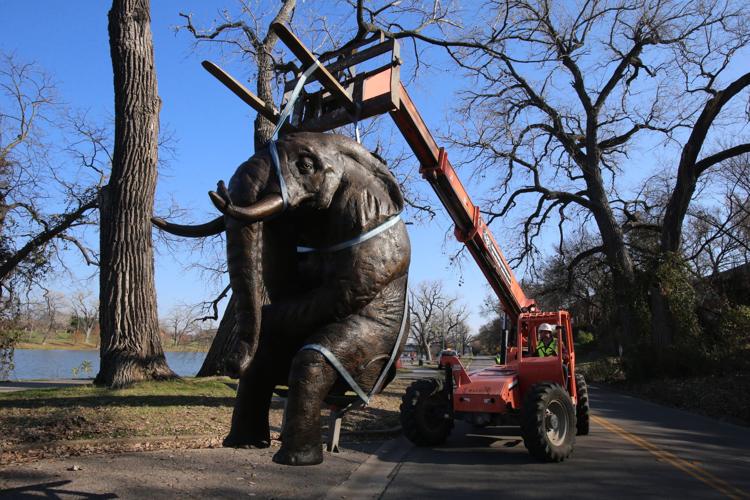 Though Balk was well acquainted by now with the sculptures and their appearance, seeing them in their places still impressed him.
"It surprised even me how impactful these few are," Balk said. "They all come together in a cohesive way."
He and his team were not the only ones taking notice. Shortly after city workers began to put the animals in place, heads were turning.
Bond rode her bike through Cameron Park the morning after the first animals were fixed to their bases and found the reaction to the sculptures almost as exciting as the art works.
"What really made my heart glad … was seeing every car, every person walking, people on their bikes, light up when they saw the sculptures," Bond said.
That excitement should only grow as a giraffe, bats, more elephants, a lion, a fox, a flock of birds and more come out of storage and take their places. And as the metal and stone animals multiply, so will the number of humans coming to the park to look, she said.
"This is going to be transformational," Bond said. "Like any great public art project, it creates a place where people want to be."