Two important mid-tier dance organisations saw a change of leadership in 2019. After Anouk van Dijk's departure, Chunky Move announced this time last year that alumni Antony Hamilton and Kristy Ayre would become its new chief executives, with Freya Waterson as touring director.
The first work presented by the company in 2019 signalled a return to the tech-curious, somewhat boyish choreographic style established by founder Gideon Obarzanek: Hamilton's promenade performance Token Armies at Melbourne International Arts Festival in October featured strange technology, an army in advance … and a live horse.
Some of the most exciting dance pieces this year were by absolute newcomers.
While I found the piece somewhat clunky, it did announce a new direction for our premier contemporary dance company – and a major new voice in Hamilton, who is a meticulous, precise choreographer.
Premiering at Dance Massive in March and then appearing in a pop-up art park at Hobart's Dark Mofo, Hamilton's Universal Estate – a four-hour, palindromic work in which two ape-like humans encountered retro computer-equipment – was a personal highlight. I am looking forward to seeing what this astute choreographic thinker will do in 2020 now that he commands greater resources.
On the other side of the Yarra, Dancehouse artistic director Angela Conquet will be replaced with the very capable Josh Wright in 2020. Without great fanfare, in eight years Conquet has grown Dancehouse into an internationally recognised institution for Australian dance, tirelessly building a community around independent dance practice.
This year, Dancehouse gave a platform to the young Isabella Whawhai Waru to expand on her controversial graduation piece Where We Stand (2018), which divides its audience based on racial identification, and introduced Melbourne to an excellent program of Swiss contemporary choreography (Cindy van Acker's precise yet relaxed movement was a revelation). Conquet leaves big shoes to fill.
There were milestone celebrations for Sydney Dance Company (50 years) and Bangarra (30 years), each presenting an evening of short works. The most moving was the Indigenous remount of Jiri Kylian's Stamping Ground, created in 1983 for Nederlands Dans Theater and now symbolically restituted to Aboriginal Australia.
Otherwise, the biggest dance shows of the year were even, but unexciting – including Hofesh Shechter's Grand Finale which, like all of Shechter's lengthier works, struggled to find an ending.
Instead, the year belonged to the young. Some of the most exciting dance pieces this year were by absolute newcomers, such as the dancer-performer trio Alice Will Caroline, which created an aesthetically mature, perfectly controlled dance-theatre experience with Lady Example.
Some of the most mature conceptual works also came from the independent sector: Sarah Aiken and Rebecca Jensen's multi-year exploration of collaboration and community resulted in the brilliant WAISTD?  and a mass edition of Deep Soulful Sweats at Castlemaine State Festival.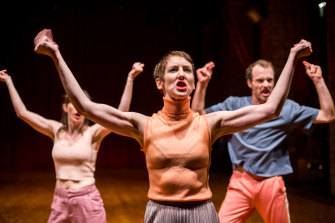 It does appear that a generation of Australian choreographers has come of age. Hopefully there will remain stages on which they can grow.
Thematically, contemporary dance has circled almost obsessively around a few quite edgy themes, using physical vocabulary for what Australian society still finds difficult to speak about.
Aboriginality, race and decolonisation loomed large – notably in Waru's work but also in Vicki van Hout's and Joel Bray's pieces at Yirramboi and the considered, recontextualised remount of Applespiel's Escape From Woomera.
Dance has also been speaking about climate change with a clarity and sophistication that still eludes our political leaders – in Moira Finucane's political burlesque and across the Refuge program at Arts House.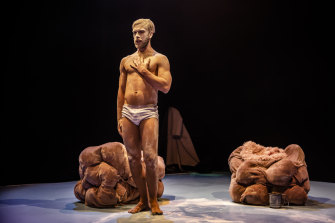 But most amusingly, in 2019 contemporary dance found a most unlikely fascination: the clubbing scene. Theatre was much faster at embracing the club as a cultural signifier; dance has struggled with both the electronic beat and with repetitive, ungraceful club dancing.
This was the year in which trained choreographers learned to match artistic merit with four-on-the-floor. Club culture made an appearance in dance shows across Supersense, the "festival of the ecstatic" in the depths of Arts Centre – most notably Kimberly Bartosik's I Hunger For You, where it was freely remixed with Southern Baptist religious trance.
Long-term Berliner Melanie Lane brought Nightdance – a post-dramatic, theatrical and knowing pastiche of club faces and body vocabularies – and her WOOF (part of Sydney Dance Company's anniversary show) was apocalyptic and delightfully odd.
Loading
She had 12 dancers in golden pantyhose and blackened arms alternating between mincing, wide stomping, pliés, club dancing and teeth chattering – all to a repetitive, intense techno soundtrack by Clark.
It is possible that there is nothing deeper to this trend than a hunger to set some ballet moves to a techno beat. Even if so, bring it on.