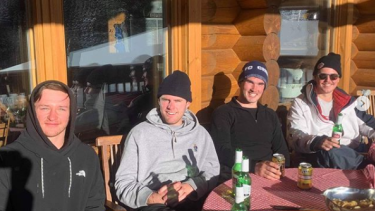 Tom Schofield, son of Australian banker Philip Schofield and ex-wife Tracey is also part of the group taking an extended vacay stateside, as is Angus Onisforou, the only son of Sydney's millionaire property investor and retail tycoon Theo Onisforou and ex-wife Heidi. Onisforou junior been sharing happy snaps of himself standing next to his pals' private jet.
The boys, or more likely their parents, have spared no expense for the weeks-long mountain jaunt, enjoying private planes, boozy lunches, luxe snow wear and even partying with Rebel Wilson.
LaPaglia caught up in security breach
Actor Anthony LaPaglia is the latest celebrity to have his iCloud account hacked.
Last week, the Without A Trace star alerted his Instagram followers to a scammer who had stolen personal images from his tech devices and uploaded them to a fake Instagram account in his name.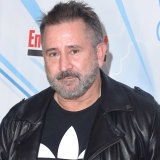 "THIS PERSON IS A FAKE . Hacked into my iCloud .PLEASE REPORT" LaPaglia wrote alongside screenshots of the fake account.
In another post the actor poked fun at the hacker's poor use of grammar. "If you're going to fake my account can you at least (a) be polite to your 'fans' (b) use grammatically correct English you dope shit."
In 2014, hundreds of photographs of naked celebrities, including Kate Upton, Jennifer Lawrence and Ariana Grande surfaced on the internet after their iCloud accounts were hacked. But luckily for LaPaglia his fake social media doppelganger was shortlived. "He's taken it down in record time. Thanks for all your alerts. If he pops back up let me know. Law enforcement has enough to track whoever it is down." LaPaglia posted.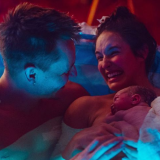 Baby joy for Pottsy
Sydney expatriate Nicholas 'Pottsy' Potts has welcomed his first child, a baby girl, Henrietta Moon, two years after tying the knot.
The New York-based photographer and his jeweller wife Elizabeth welcomed 'Henri' two weeks before Christmas in an intimate water-birth in the Catskill Mountains in southeastern New York State.
Elizabeth thanked her husband on Instagram for his support during the arduous labour. "@pottsypotts you were everything during that 36hr journey and we couldn't have done it without you," she told her large social media following.
Potts, a former model, grew up in Woollahra and followed his father Tony's footsteps into photography. Prior to marrying Elizabeth, Potts had a high-profile romance with Aussie model Jess Hart. They were together for six years before splitting in 2010.
New chapter for Justine Kendall
One year on after celebrity chef and Bronte cafe owner Justin 'Juzzy' Bull tragically died, his widow Justine Kendall and son Felix are relocating to Singapore.
Emerald City understands Justine, a general manager at Rizer, the world's largest boutique events agency, with offices in Sydney and London, will head up the company across Asia.
"Thank you to all our dear family and friends and work colleagues for your incredible support and kindness, particularly in the last 12 months. We are going to miss you!" Justine posted on Instagram alongside a photo with Felix.
Last month, Justine praised chef Miguel Maestre for his candid commentary on mental health in the hospitality industry as he competes for suicide prevention charity R U OK? on I'm A Celebrity… Get Me Out Of Here to raise funds for mental health.
Lucy Manly is a reporter and gossip columnist for The Sydney Morning Herald and Sun-Herald.