"That first speaking experience dramatically transformed my life. Although it was a relatively small audience, for me it was a big step and one that reinforced for me, that even though I was just one person, I had the capacity to make a difference."
This year's festival theme is Dangerous Realities, a term that arose from an address given by Stephen Fry last year in honour of Christopher Hitchens who opened the inaugural festival in 2009.
Festival director and co-curator Danielle Harvey says the festival had been scarily prescient in flagging dangers around government surveillance, surrogacy and gene editing, climate change, and mental illness.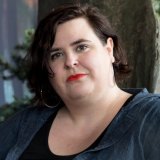 "This year, being the 10th anniversary, the danger is here," she says. "It's real, it's all around us. It's not something that is coming in the future and many of the things that perhaps five years ago would have seemed slightly sci-fi – genetic engineering, genetic modification, CRISPR – these are being used now and we really need to start to get a handle on the technologies, the politics, the world we are actually living in now and come to grips with reality so we can form a better picture of what the future is going to be. This year is not about soothsaying, it's not about what might happen, it's about what is happening."
Among the 30-plus speakers will be accused whistleblower Edward Snowden, Lindy Chamberlain-Creighton, journalist and moralist Jon Ronson, commentator Roxane Gay, and American political philosopher Michael Sandel.
David Wallace-Wells, whose 2017 brutal portrait of climate change in an essay for New York Magazine was turned into a book, Uninhabitable Earth, will describe the reality of life in Australia's post-bushfire 'normal'.
Young climate activist and the author of On Hope, Daisy Jeffrey, said: "We thought we would be first generation to see and feel the worsening impacts of climate change, but this transformation is occurring much faster than originally predicted.
"The word 'change' implies a shift from one state to another and it fails to capture the severity of the damage being done to Australian people and wildlife by the ongoing series of bushfire, flood, and drought crises. We are in a climate crisis."
Growing up in the Kimberley, Dylan Storer said he has been surrounded by the results of bad and shortsighted political decisions which caused huge damage and division within his Indigenous community.
"Young people are the ones that will be impacted the most by decisions made today, because of that we have recognised that we need to fight today to make our future stronger."
Executive director of The Ethics Centre and festival co-founder, Simon Longstaff said: "The world we are making is a reflection of ourselves. The Festival of Dangerous Ideas offers us the chance to look reality in the face and decide if we like what we see."
FODI runs April 3-5 at Sydney Town Hall.
If you, or someone you know needs support, contact Lifeline, 13 11 14; Kids Helpline, 1800 55 1800 or beyondblue, 1300 22 4636.
Linda Morris is an arts and books writer at The Sydney Morning Herald