In fact, throughout the year there have been discoveries of outstanding male dancers across the stylistic spectrum, perhaps most noticeably among Indigenous performers. From NAISDA College graduates to members of Bangarra Dance Theatre, it was a thrill to observe the outstanding contributions of the male dancers. Tyrel Dulvarie is one of the most memorable, notably for his appearance in Jiri Kylian's Stamping Ground for Bangarra, a highlight in its 30th anniversary program.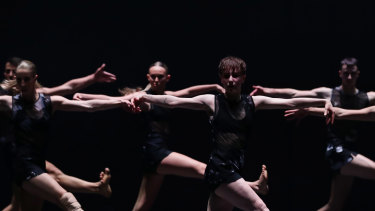 Marrugeku, Broome's multicultural dance company, brought a fascinating trio of solos (Edward Lee Mulligan, Miranda Wheen, Eric Avery) to Sydney under the title Burrbgaja Yalirra/Dancing Forwards. It's rare to see such imaginative and intelligent use of dance to explore ideas so clearly and forcefully.
The arrival of Natalia Osipova in Sydney was much anticipated, but she was actually more interesting in a revival of Meryl Tankard's Two Feet for the 2019 Adelaide Festival, playing a tomboy Australian and a Russian ballerina and giving us a glimpse of her legendary Giselle.
And then there was the play I went to at the 2019 Sydney Festival, Kim Carpenter's Brett and Wendy, that turned out to be richly embroidered by Lucas Jervies' choreography to express the artist's vision. You just never know where the gems will be.
Looking forward to 2020
Graeme Murphy's take on Oscar Wilde's story of The Happy Prince for the Australian Ballet carries high hopes. Its premiere is in February in Brisbane and it will come to Sydney in November.
Kim Carpenter, who directed an award-winning version of the story for his Theatre of Image, has designed the sets and costumes as well as collaborating with Murphy on the adaptation. Christopher Gordon, who wrote the music for the films Mao's Last Dancer and Master and Commander, has written the score. It's a subject that has been on Murphy's mind for years and its poignancy should blossom under his sure touch as a storyteller.
Sydney Dance Company artistic director Rafael Bonachela has invited William Forsythe to set a witty work, N.N.N.N. against new and old pieces of his own in the company's March season. Impermanence, to a commissioned score by The National's Bryce Dessner, will make its debut, and E2 7SD, an early career success, is getting its first Sydney outing.
Dance filmmaker Sue Healey is preparing an addition to her exhilarating series of portraits, On View, in which she presents performers on screen and in life – time and place yet to be decided.