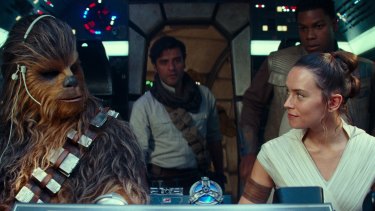 AP reviewer Jake Coyle called the film "a scattershot, impatiently paced, fan-servicing finale that repurposes so much of what came before that it feels as though someone searching for the hyperspace button accidentally pressed the spin cycle instead."
Describing the film as "safe, familiar film service", the AV Club's A.A. Dowd speculated on Abrams' timidity with the finished product. "This is a space opera animated not by joy but insecurity – the anxiety, evident in almost every moment, that if it's not very careful, someone might feel letdown," he wrote. That sentiment was shared by Todd McCarthy at the Hollywood Reporter who suggested Abrams had "overcompensated, tripping over himself in a mad-dash effort to deliver the expected goods."
In a blistering viral take, The Irish Times' Donald Clarke – who likened fans of the franchise to defending "your sister's awful husband" – said the film "struggles to satisfy any worthwhile definition of 'cinema'."
"The film is merely a component part of a larger machine (the trilogy) that plugs into an even larger mechanism (the Star Wars universe). It has no more use or appeal when examined in isolation than would a sparkplug or a distributor cap," he wrote.
In another harsh take, Entertainment Weekly's Darren Franich said: "Rise of the Skywalker isn't an ending, a sequel, a reboot, or a remix. It's a zombie."
Loading
Still, other leading critics – including this masthead's Sandra Hall – have found something to like in the film's familiarity. "It's a rousing, if frenetic and occasionally confused, finish to a series that has kept two generations of moviegoers company throughout their childhood and adolescence," she wrote.
Calling the film a "perfectly imperfect last chapter", Rolling Stone's Peter Travers praised it as a "euphoric blast of pulse-quickening adventure, laced with humour and heart", and suggested the nitpicking over particulars is "the point" of the franchise's success. "When it comes to Star Wars fandom, the infighting is as crucial as the love," he wrote.
Walt Disney Co. is counting on the movie, which officially opened in Australia on Thursday, to revive excitement around the Star Wars franchise, whose last instalment, Solo: A Star Wars Story, was a disappointment both with fans and box office projections.
The research site Box Office Pro estimates Rise of Skywalker will take in up to $US225 million ($328 million) in its opening weekend in North America. The Hollywood Stock Exchange has put that number at $US230 million ($336 million), enough to rank among the top five debuts of all time.
Disney, which typically forecasts conservatively, said Tuesday it's estimating the movie will open with US weekend sales of $US160 million ($234 million) or more. The Last Jedi took in $US220 million ($321 million) in its US opening weekend two years ago and went on to gross $US1.33 billion ($1.94 billion) worldwide.
-with Bloomberg
Robert Moran is a culture reporter at The Sydney Morning Herald and The Age