In her short introduction she explains that she considered curating these columns in some way, reorganising them or choosing only her favourites, but instead decided to leave them as they are, in chronological order. This reflects her attitude as a writer too, her investment in the principle of presenting things in an unvarnished way.
This is a collection to read straight through, and feel a sense of following the writer's mind as she dives from one topic to the next, or to dip into; it invites engagement on the reader's own terms.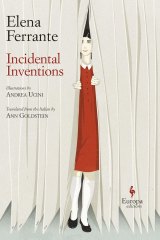 For fans of Ferrante's Neapolitan quartet there is fascinating material here, reflections on the complexities of friendship between women, relationships between mothers and daughters, and her feelings about putting her work in the hands of a filmmaker. These feelings depend enormously, it turns out, on the gender of the director: ''I would never say to a woman director, 'this is my book, this my perspective. If you want to make a film, you have to stick with it','' she writes. She would not be so ''acquiescent'' in the case of a man: ''I would ask him to respect my view, to adhere to my world.''
Ferrante's fiction puts women's lives and friendships at the centre of the narrative, and has led not only to a spectacular growth of interest in Italian women's writing, but also a re-evaluation of what counts as material for literature. She famously uses a pseudonym, and her admirers are divided over the ethics of the efforts of journalists to unmask her.
Because of her anonymity, there is a special quality of intimacy to these pieces that show us the person behind the mask of authorship. They provide clues about who she is, what she is like, more personal than the flat facts of her real name, age, address. We learn, for instance, that she loves to laugh, although her sense of humour is quirky. She eats very little spaghetti. She fears snakes and heights and prizes her ability to mask her fear. She is always the last to leave any gathering because of the melancholy that comes with any farewell.
She loves the actor Daniel Day Lewis with a passion. She hates seeing herself in photographs, and the column that reflects on this feeling is one of the many here that feel strikingly true. There's one single picture she likes, and she understands this to be because it shows a self that is precisely not coincident with what she feels herself to be.
This column on the photograph is an example of how these pieces seem to show the writer's mind at work in understated yet illuminating ways. Wondering about her feelings about pictures of herself, she writes, ''It seems to me that I found the answer this morning, writing''. There are many compelling insights about the practice of writing, and how, as all writers know, the process itself is a challenging path of discovery and a way into knowledge.