More than a few indie highlights drew on the experience of artists in dark times. Led by a mesmerising performance from Evelyn Krape, The Ghetto Cabaret channelled the spirit of musicians and actors who performed in the ghettos of Europe under Nazi occupation, while Andi Snelling's solo show Happy Go Wrong laid bare the fate of an artist struck down by chronic illness.
Loading
Playwright Patricia Cornelius had a wonderful year, winning a lucrative international drama prize in March. And local audiences got to see a fair sample of her work staged – from Anthem, a group-devised national snapshot at the Melbourne Festival, to a double-bill of Love and Shit, performed with stunning intensity at fortyfivedownstairs ahead of an outing at the Venice Biennale.
Established indie artists such as The Rabble created world-class theatre. Their show Unwoman at The Substation, devised with a team of pregnant actors, fused the myths, politics and lived experience of women's reproductive lives into fascinating and disturbing performance art. And the new kids on the block at Patalog Theatre revealed fresh acting talent, with excellent productions of Simon Stephens' Punk Rock and Polly Stenham's Tusk Tusk.
On our main stages, it was the first year I can recall that the biggest show in town was not a musical. Harry Potter and the Cursed Child has proved an epic and spectacular addition to J.K. Rowling's phenomenally successful series. With stage magic that thrills and a superbly cast Australian ensemble, it's still a hot ticket, almost one year on.
Musical theatre itself suffered a blow, with Jeanne Pratt's The Production Company announcing an end to regular programming from next year. This season hasn't been an ideal exit – David Bowie's Lazarus was embarrassingly pretentious, and only Ragtime really scintillated – but theatregoers and performers alike will be much worse off without the enterprising program the company has championed since it opened in 1999.
Of the commercial musicals, the clear stand-out was Come From Away. It would make perfect stocking-filler: I've yet to meet anyone who wasn't moved and charmed and genuinely uplifted by the unlikely hit, a poignant tragicomedy that hinges on the hospitality of a small Canadian town that played host to thousands of air passengers stranded there after the 9/11 terrorist attacks. Clever exposition, catchy songs and finely observed comic acting make it impossible to resist.
One large musical theatre event, Charlie and the Chocolate Factory, had more style than substance, but there were still plenty of entertaining options: a revival of Chicago currently playing at the Arts centre; a lively, acrobatic version of Barnum and the calisthenic cheesiness of cheerleading musical Bring It On!; Opera Australia mounting West Side Story and at Melbourne Theatre Company, a rare production of Kander and Ebb's Kiss of the Spider Woman.
Loading
The MTC had something for everyone. Those with a taste for modern classics couldn't go past the searing performances and brutal elegance of Arthur Miller's A View From The Bridge, and the company's NEXT STAGE writer's program bore fruit with Anchuli Felicia King's globetrotting legal thriller, Golden Shield.
Simon Phillips' frolicsome, chocolate-box production of Shakespeare In Love offered a comic highlight, as did Nakkiah Lui's Black Is The New White: it was hard to leave the high farce and subversive wit of this new Indigenous comedy without a smile on your face.
There were less than stellar offerings in the mix at MTC, too – notably, a stage adaptation of Storm Boy that failed to fly – but subscribers could generally feel they were in safe hands, with satisfying drama from Pamela Rabe's stylish production of Photograph 51, starring Nadine Garner as a distinguished scientist, to a nimble revival of Louis Nowra's Cosi directed by Sarah Goodes.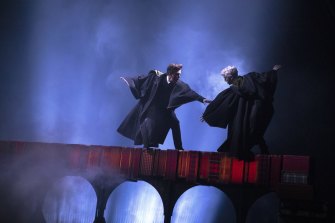 At the Malthouse, Ars Nova's The Underground Railroad Game offered a riveting, sophisticated and utterly fearless examination of race in the US, while Barbara and The Camp Dogs worked the legacy of racism in Australia into an unvarnished portrayal of Indigenous trauma and resilience, with an achingly soulful sound.
Malthouse's skilful adaptations of Australian works embraced opposite ends of the theatrical spectrum, from a tense and compressed solo version of Wake In Fright starring the sublime Zahra Newman, to an expansive, luxuriously cast revival of the adaptation of Tim Winton's Cloudstreet.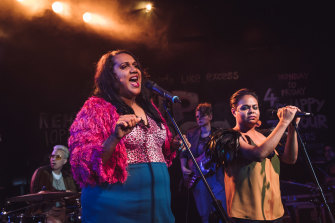 And if Jonathan Holloway's final Melbourne International Arts Festival felt underpowered, the event itself seems to be in a state of transition and flux. Who knows what will happen next year when it is moved to winter and merged with White Night?
It's one more uncertainty in an uncertain time for artists, who continue to create impressive theatre despite a difficult funding environment.