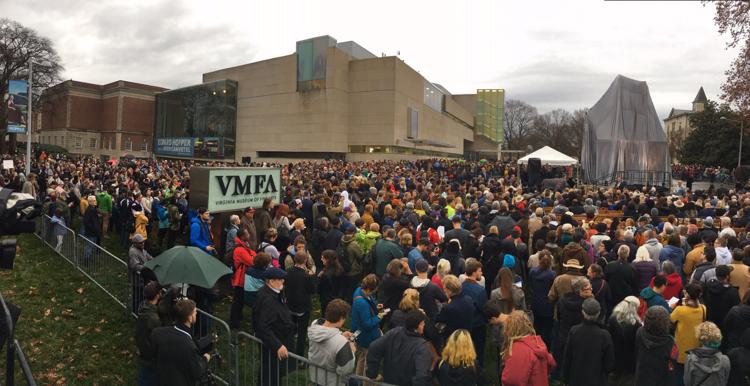 Kehinde Wiley's monumental sculpture "Rumors of War" was installed Tuesday at the entrance to the Virginia Museum of Fine Arts at 200 N. Arthur Ashe Boulevard.
Wearing a crown of dreadlocks, "Rumors of War" depicts a triumphant African-American figure wearing jeans ripped at the knee and Nike high-top sneakers, sitting astride a horse.
The piece is specifically modeled after the monument to Confederate Gen. J.E.B. Stuart on Monument Avenue, which Wiley saw when he was visiting Richmond for his career retrospective "Kehinde Wiley: A New Republic" at the VMFA in June 2016.
The statue itself is stunning in size. Cast in bronze, "Rumors of War" is 27 feet tall, 25 feet long and 15 wide and rests atop a giant limestone pedestal.
The new piece "offers the opportunity to think about the importance of monuments in our history and in modern culture," Dr. Monroe Harris, president of the VMFA board of trustees, said. "As we turn away from some of the images of the past, we embrace current images such as 'Rumors of War' that offer hope and inspiration."
The crowd was filled with all ages and different races, black, white, young, old, male and female. Arthur Ashe Boulevard in front of the museum was closed to traffic and on-lookers filled the street.
(This is breaking news. Check back for updates.)
Rumors of War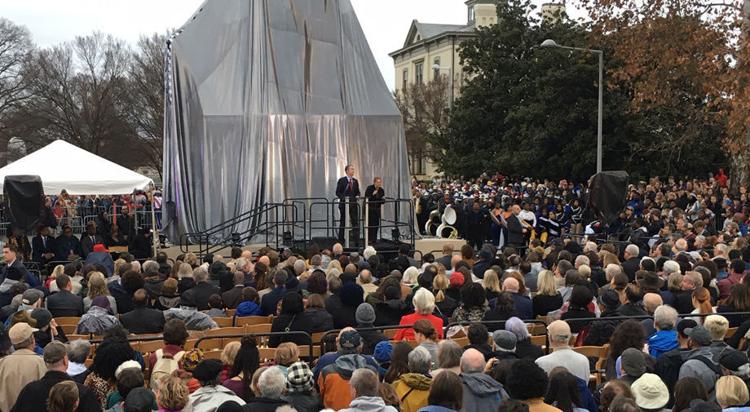 Rumors of War

Rumors of War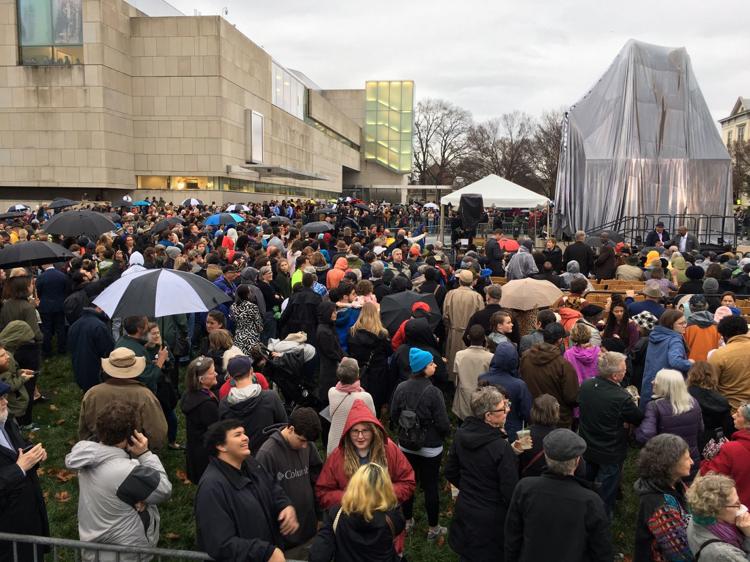 Rumors of War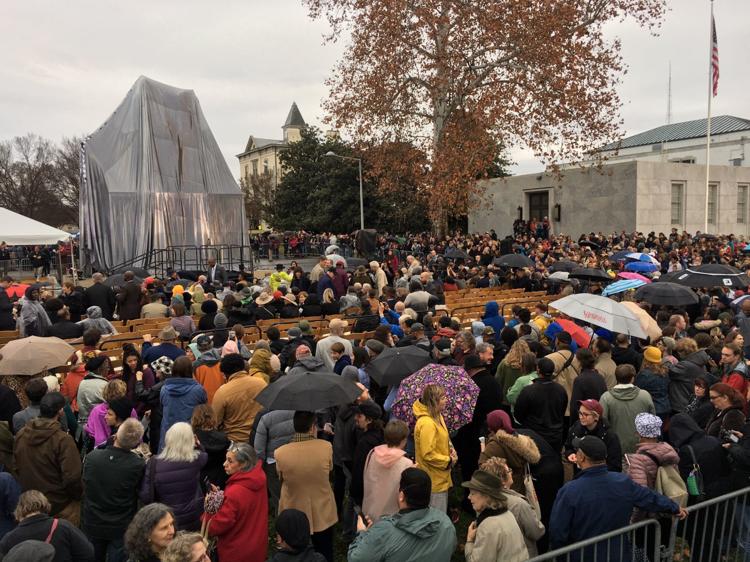 Rumors of War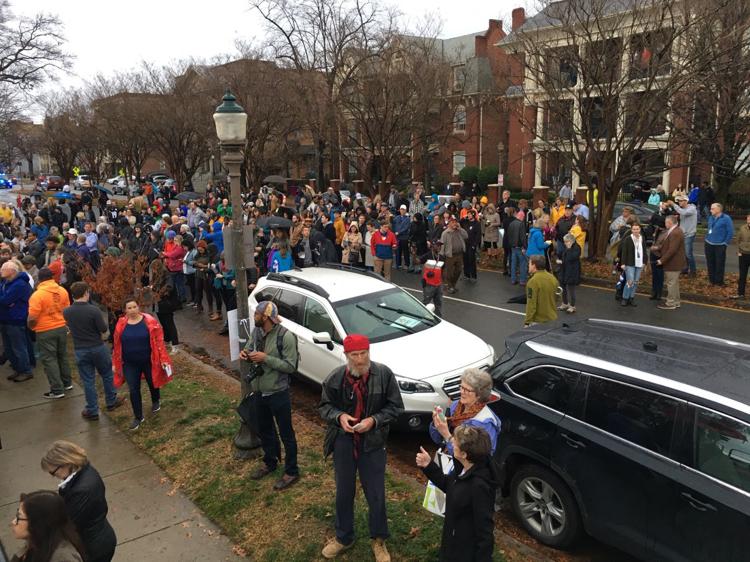 Rumors of war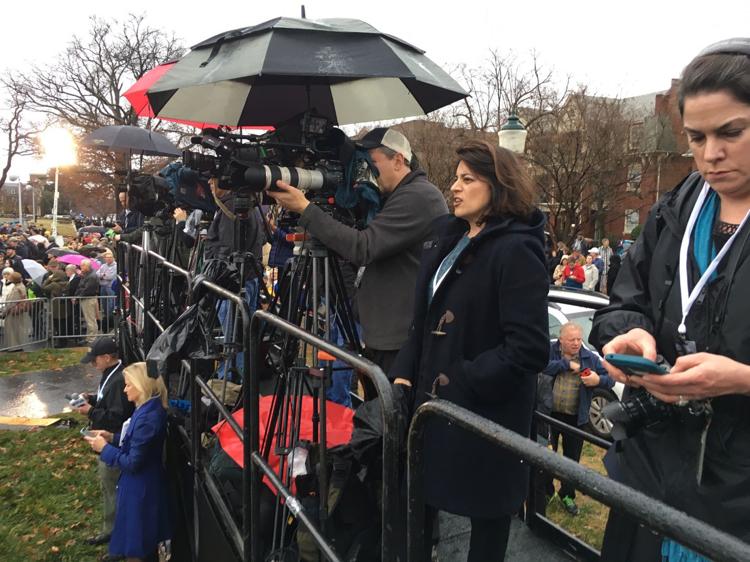 Rumors of War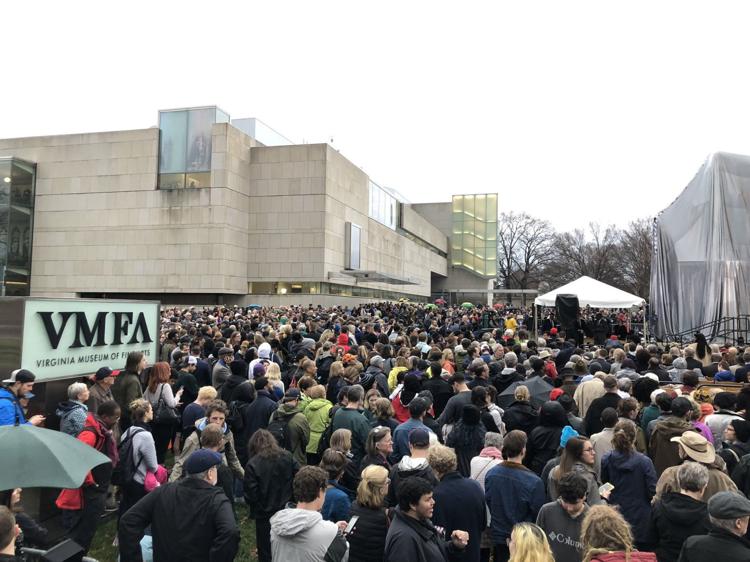 — HIDE VERTICAL GALLERY ASSET TITLES —
Rumors of War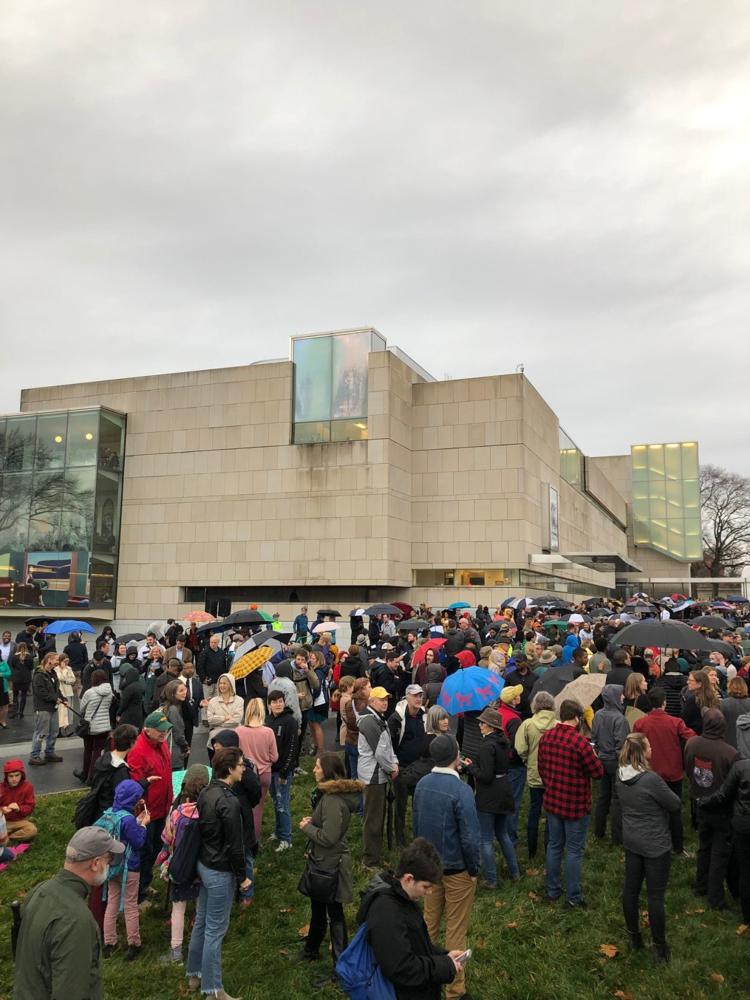 Rumors of War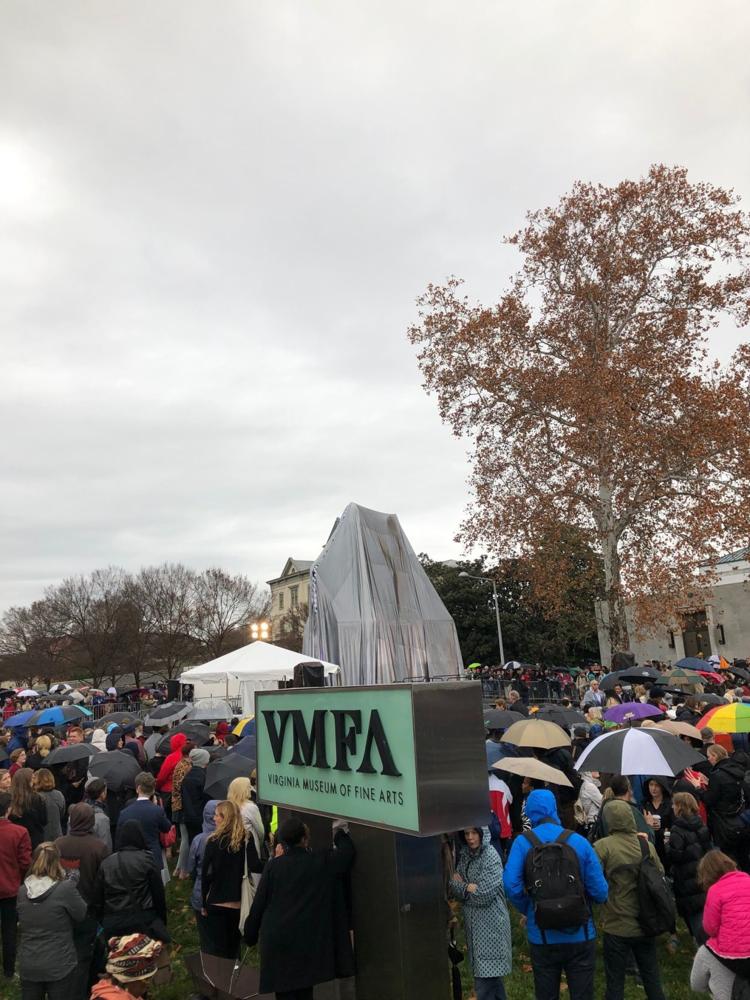 Rumors of War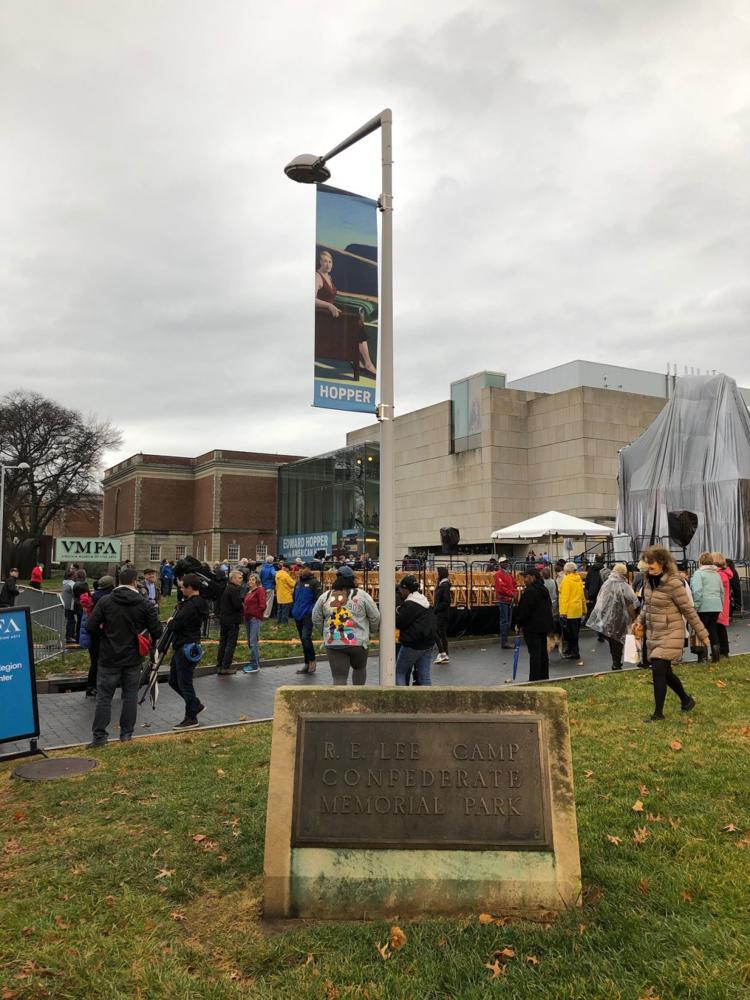 Comparing 'Rumors' to the Stuart statue
A comparison Kehinde Wiley's "Rumors of War" and the Gen. J.E.B. Stuart statue on Monument Avenue. Click on the slider in the middle of the image to move it back and forth.
What you need to know before going to the unveiling
Kehinde Wiley's "Rumors of War" will be unveiled Tuesday at 3:30 p.m. at the museum's entrance at 200 N. Arthur Ashe Boulevard.
Here's what you need to know for Tuesday's unveiling.
• The public unveiling will be at 3:30 p.m.
• Arthur Ashe Boulevard will be closed from Ellwood Avenue to Monument Avenue from 2 to 6 p.m.
• A free GRTC shuttle will run from Rueger Playground at 3000 Grant St. to the museum from 2:30 to 7 p.m. Free parking is also available at the playground.
• Parking for a fee will be available in the VMFA deck on a first-come, first-served basis. Visitors will be able to enter the parking deck only from Stuart Avenue or Sheppard Street.
Wiley, the artist, will speak at the event, as well as Gov. Ralph Northam; Mayor Levar Stoney; the museum's director, Alex Nyerges; and others.
Richmond's All City High School Marching Band is scheduled to perform.
"Kehinde wanted to create an event that is upbeat and full of music," said Jan Hatchette, a spokeswoman for the museum. In Times Square, a marching band from New Jersey performed.
Best-known for his official presidential portrait of Barack Obama, the 42-year-old artist has built his career on creating larger-than-life, regal portraits of minorities in classical poses, positioning his subjects in ways typically associated with wealthy and powerful white men.
"Rumors of War" depicts an African American figure with a crown of dreadlocks and dressed in modern clothing and sneakers, sitting astride a horse. Cast in bronze, the sculpture is over 27 feet tall and was on view in New York's Times Square for the past few months.
It was created in response to Richmond's monument of Confederate Gen. J.E.B. Stuart on Monument Avenue.
The sculpture is Wiley's first piece of public art and the VMFA's most expensive acquisition of a sculpture.
The acquisition was funded by an endowment of private donations, not state money.
VIDEO: The history of Richmond's Monument Avenue
Richmond's Civil War monuments are part of the city's landscape – an appeal to public memory. For some, that memory is rooted in pride. For others, it's pain.
This historical timeline tells the story of the monuments that have stood high over the avenue – and the street itself. The video was produced Shelby Lum, Times-Dispatch staff photographer, and Nicole Kappatos, Times-Dispatch archivist. It's narrated by RTD columnist Jeff Schapiro.
Over the course of several months, Lum and Kappatos compiled a historical timeline using major dates for the construction of the statues on Monument Avenue.
With that timeline, they combed through archival resources to see what local papers, including the Richmond Times-Dispatch and Richmond Planet were reporting at the time of the statues' construction. The goal was to give a historically accurate painting using newspaper-related sources, of what was happening in the Richmond community at the time the monuments were created. The Times-Dispatch archives, the Valentine and the Library of Congress were used to tell the story.
RELATED PHOTO GALLERIES