"Survival depends entirely on how long it goes on," he said. "The ACO is in a fortunate position – 20 years ago it was broke and over the past 20 years it has put some money away."
According to their latest financial statement from December 2018 the ACO has a little over $14.5 million on hand to buffer itself against the COVID-19 shock. The orchestra's players are mostly employees and there has yet to be a conversation about any cuts in salary. Mr Evans said they would do their best to look after those working on a casual basis.
"Our intention is to hold as hard as we can onto our casuals and those people we have made commitments to," he said. "However, like the airlines and everyone else we can't hold on forever."
The ACO has sold $2.5 million in individual tickets and subscriptions for upcoming concerts and like most other companies is urging supporters to convert their tickets to a tax-deductible donation rather than demand a refund.
In the past three days, 30 per cent of people have heeded that call and Mr Evans is hoping to increase that number significantly.
Meanwhile, artistic director Richard Tognetti, who this year celebrates 30 years at the helm, said the ACO was in "survival mode".
"It'll be up to the government whether they will allow us to go bankrupt and then maybe start again or whether they can see the value in propping up certain companies," he said.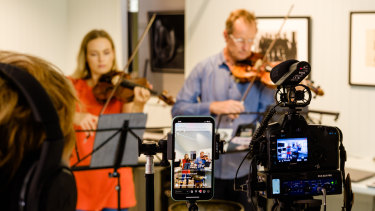 "[But] the attitude, 'Help me' is not the best attitude to have at the moment. Asking for special treatment is about as tasteless and graceless as you can possibly be."
And he stressed the players are keeping busy during the enforced shutdown.
Loading
"We are performing and coming up with new ideas," he said.
The first of those ideas was put into effect on Thursday afternoon when Tognetti and principal violinist Satu Vanska recorded a performance of Arvo Part's iconic Tabula Rasa at their Manly home. The performance, which was to have opened in Wollongong on Thursday evening before touring, will be made available online shortly.
There are plans to film and broadcast more concerts as well as stage smaller online events in the style of National Public Radio's popular "Tiny Desk" series in the US.
"We're certainly not on holiday," said Tognetti. "We're not on leave. We're going to perform but just in a different context."
Nick Galvin is Arts Editor of The Sydney Morning Herald