Tukiwaho co-wrote the script with David Harvey, with both wanting the script to show, not tell audiences about the cultural commentary hidden in the unconventional wedding celebrations by breaking the fourth wall.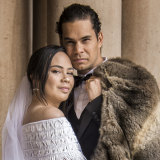 "Our purpose is inviting [the audience] in as though they are a part of our family," Tukiwaho said.
Indigenous-Australian actor Mark Coles Smith, who plays the main Aboriginal character Kane, described his love-struck persona as "perhaps almost the whitest black fella on stage".
Smith said he and the cast steered away from delivering just pure entertainment through a colonial theatre lens, instead they sought to ensure it had political substance with a cultural celebration and joy.
"The rom-com format is this kind of light transport genre, on the surface it is kind of fun and bubbles along. What is underneath all of that is this intersectional cultural reflection," he said.
The opening night of the show, last Friday, was also a community night, during which discounted tickets were made exclusively available for Indigenous people at Sydney Town Hall.
Loading
"What success looks like for me is trying to regenerate the amount of love and joy in the audience with what we had from the first opening night. That feeling of bringing so many people together with so much animation and celebration," Smith said.
"The people this show strikes at the heart of is Indigenous audiences, we hear it hit them and we hear them crying. They are holding our hands and thanking us for making this show."
To ensure a balance of First Nations perspectives the play has an equal number of Indigenous-Australian to Maori scenes.
Smith enjoyed working collaboratively with his ensemble since everybody was given the opportunity to consider themselves equal in the storytelling process.
"Everybody in the space had a chance to feel empowered by that nature of collaborativeness. I am still processing how different it was to other theatre processes," Smith said.
"I really enjoyed exploring themes in the rehearsal process, what do we bring into these scenes to continue these conversations that need to be had, with Australians and also with each other."
BLACK TIES is being performed on Gadigal Land at Sydney Town Hall as part of the Sydney Festival until January 18.