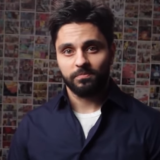 Meanwhile, ageing action stars continue to defy gravity. Tom Cruise, 57, will appear in two Mission: Impossible films to be released in 2020 and 2021, following Sylvester Stallone, 73, in Rambo: Last Blood and Keanu Reeves, 55, in John Wick: Chapter 3. Not to forget Arnold Schwarzenegger, 72, who has made a number of comeback action films in recent years, including two more Terminator movies, and has the action-comedy Kung Fury 2 out next year.
It's hard to believe that fame will be as enduring for today's social media stars. Creating high-impact short videos on shoestring budgets on a daily basis, shooting for viral hit after viral hit, tends to lead to burnout.
Which may explain why a formerly huge YouTube star such as Ray William Johnson, who only five years ago hosted the biggest channel on the platform (Equals Three, with close to 10 million followers), has moved into mainstream media gigs with less frequent deadlines.
To read more from Good Weekend magazine, visit our page at The Sydney Morning Herald, The Age and Brisbane Times.